Business app to verify vaccine status now available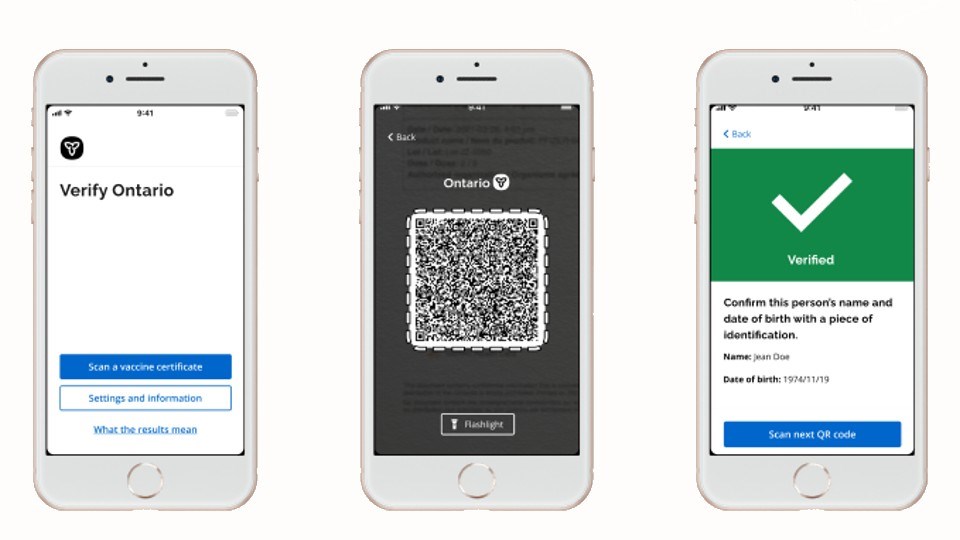 Verify Ontario, released Oct. 15, scans QR codes of customers
A new smartphone app that enables businesses to verify the COVID vaccination status of its patrons is now available for download.
Verify Ontario, which was developed by the province, was released on Oct. 15.
It's been designed to make it easier for business owners to quickly and accurately verify the vaccination status of a customer.
Under current provincial guidelines, full vaccination against COVID-19 is required in a number of settings, including restaurants, nightclubs, gyms, and other high-risk public spaces.
Using a smartphone or tablet, the business owner scans a quick response (QR) code, which is linked to a customer's vaccination status, after which one of three screens appears.
A green screen with a white checkmark indicates a customer has been fully vaccinated and can enter the premises, while a red screen with a white 'X' indicates the customer has not been fully vaccinated and cannot enter.
If the screen returns yellow with a black exclamation mark, it indicates there's a problem with the scan.
According to the province, the app does not store or retain customers' personal information and shows only the minimal amount of information required to verify vaccine status.
A patron's information remains on the screen for about 20 seconds, and once a new code is scanned, the information from the previous customer is erased.
Business owners can download the new app through the Apple App or Google Play store. They'll be responsible for having a smartphone or tablet on hand to scan the codes.
Businesses must also accept the paper versions of patrons' vaccination receipts.
In Ontario, proof of vaccination requirements came into effect on Sept. 22.