Business Roundup | Pop-up market celebrates female-owned businesses | Business World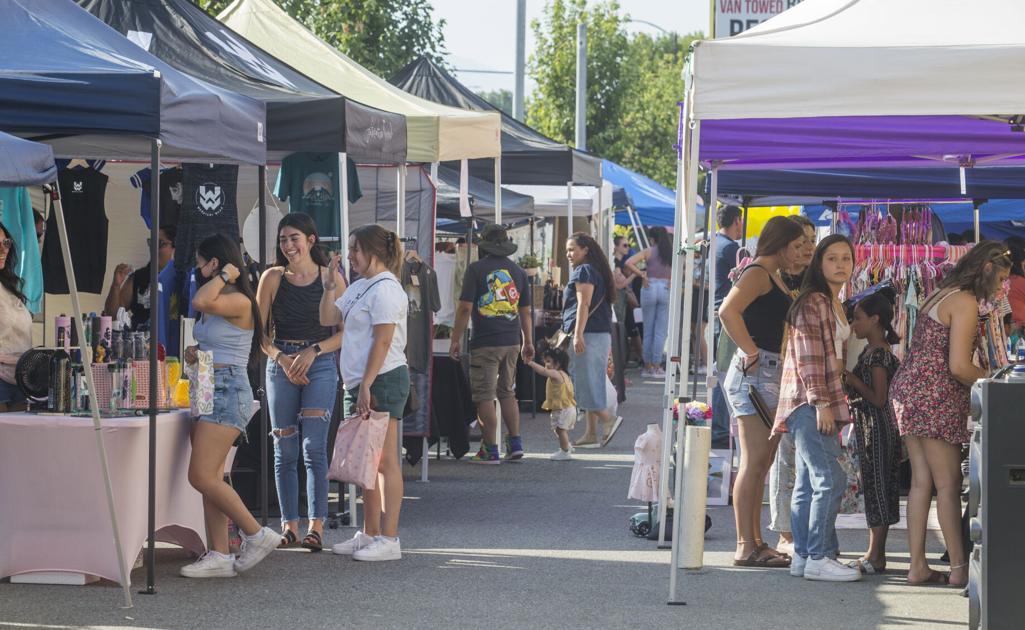 WENATCHEE — Thirty-two female-owned businesses piled into the parking lot of a South Wenatchee supermarket the last weekend of July, celebrating female empowerment and entrepreneurship.
She Se Puede, a Central Washington movement that supports female owned businesses through pop-up events, held a two-day event in La Mexicana Super Market's parking lot.
The group's name is a play on a popular Spanish saying "Sí se puede," or "Yes, you can."
"We're basically just telling all the women that they can do whatever they want, especially with these small businesses," co-organizer Lydia Pearson said. "That was our goal, to be able to create something where they can come out and put themselves out there outside of social media."
Although the event is only on its third pop-up, the organizers hope to expand across the state and incorporate entertainment options and a beer garden.
Pybus announces more summer arrivals and departures
WENATCHEE — In with a new restaurant and out with a body care shop at Pybus Public Market.
Wenatchee's newest entry to the culinary scene will be a spot named The Huck, operated by Angie and Eric Decker, who also own The Wild Huckleberry. The new restaurant is expected to open Sept. 1.
The Huck is offering modern American cuisine, serving breakfast, lunch and dinner, according to the release. Those looking for a late-night drink can also expect to see cocktails, wines and beers. A few of the dishes on the menu include eggs benedict, omelets, pork chops and pastas.
The Huck will open where Pybus Bistro previously was located. The Bistro closed in June.
Moving out of Pybus is the goat-milk body care shop, Farm to Face & Body. The store was a part of the Anderson Family Farm and first sold goods at Pybus in 2015.
Pybus Market is aiming to fill the vacancy by the end of October.
Chelan company purchases KOZI and KZAL radio stations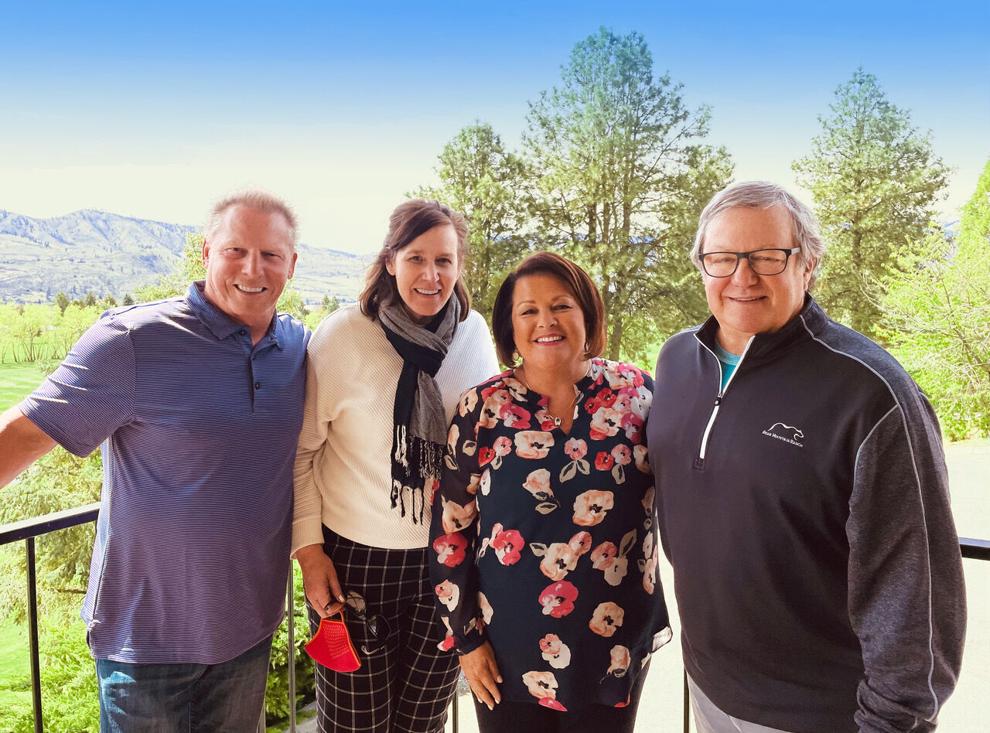 CHELAN — Icicle Broadcasting Co. has sold three radio stations to Chelan Valley Media Group, a partnership of four former Seattle-area media professionals with ties to the Chelan Valley.
The sale includes KOZI AM, KOZI FM and KZAL, "Z-Country," according to a July 27 news release from KOZI radio. KOZI is a 60-year-old station that was previously owned by Harriet Bullitt, Icicle Broadcasting Company principal owner. Icicle Broadcasting will continue to own and operate KOHO 101.1 "Hometown Radio."
Chelan Valley Media Group is a partnership of Allan Mayer, Karen Heric and Matt Peters, all of Manson, as well as Melissa Durfee-Davis of Seattle. The sale should be completed by fall with approval from the Federal Communications Commission. Heric will take over as president and general manager.
Heric has 35 years of media experience at King 5, GreenRubino, iHeartRadio and ROOT Sports.
Chelan Valley Media Group might look to update some of the music at KOZI going into the future, Heric said. They also want to give more attention to KZAL and expand its market.
Numerica PAC hires new executive director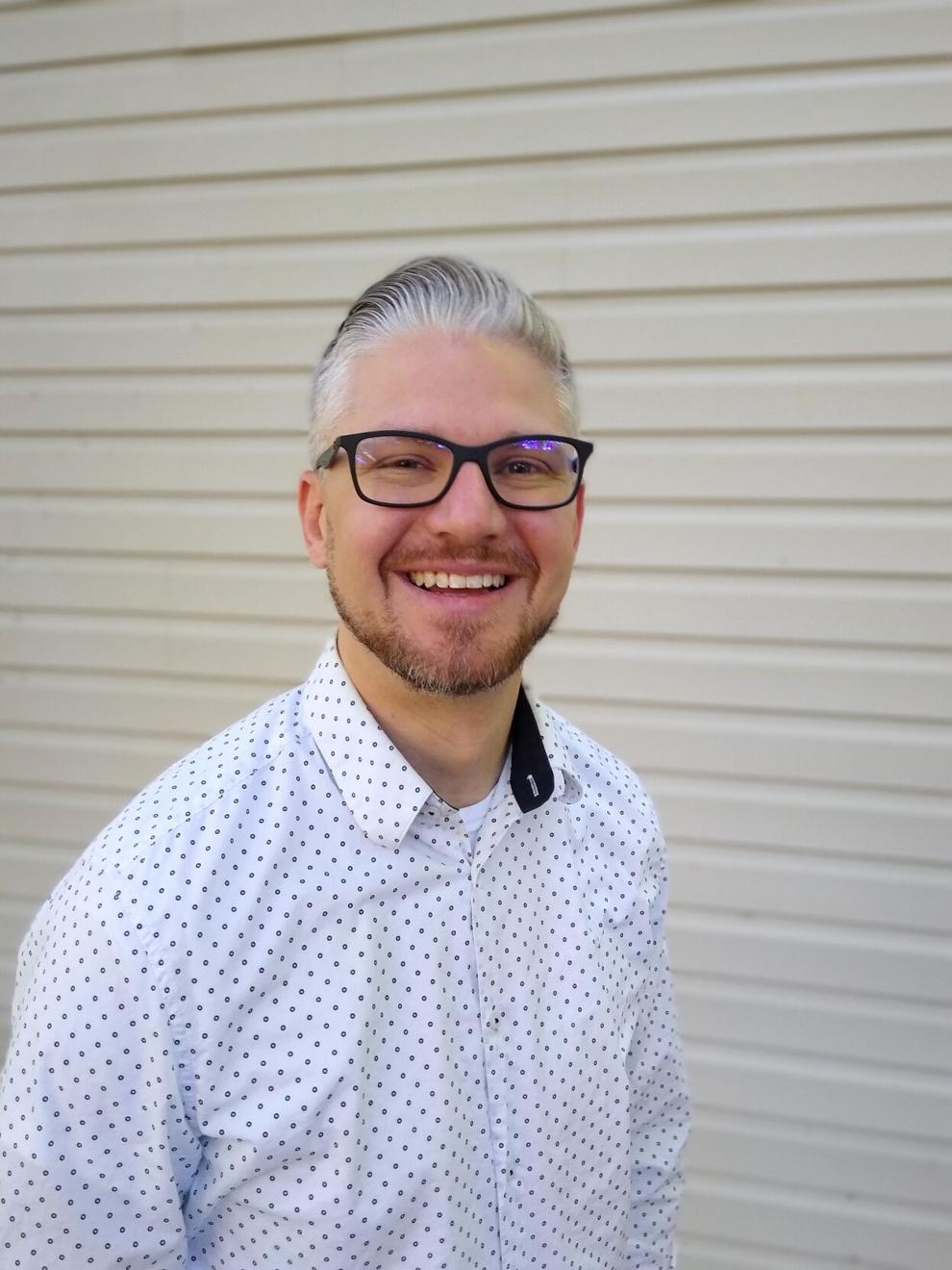 WENATCHEE — The Numerica Performing Arts Center has selected J. Woody Lotts as its next executive director.
Lotts formerly worked as a tour manager for Seattle's Book-It Repertory Theater and was a producer for Driftwood Players Theater and Phoenix Theatre in Edmonds, according to a news release from the PAC. He is currently living in Lake Forest Park and his start date is pending as he works to relocate to the Wenatchee area.
Lotts is bilingual, speaking both English and Spanish, and he looks forward to bringing diversity to the Wenatchee stage, according to the release. Lotts spent time in Peru coordinating a drama program.
Lotts will be the first permanent executive director since the departure of Robert Cox in September 2019. Cox was hired to replace Matt Cadman, who retired from the post in March 2019 after six years. Cox held the job for three months. Alex Haley, who had been the PAC program manager, filled in as interim executive director until the pandemic closed down the theater in spring 2020.
PUD hires port to help market Fifth Street headquarters property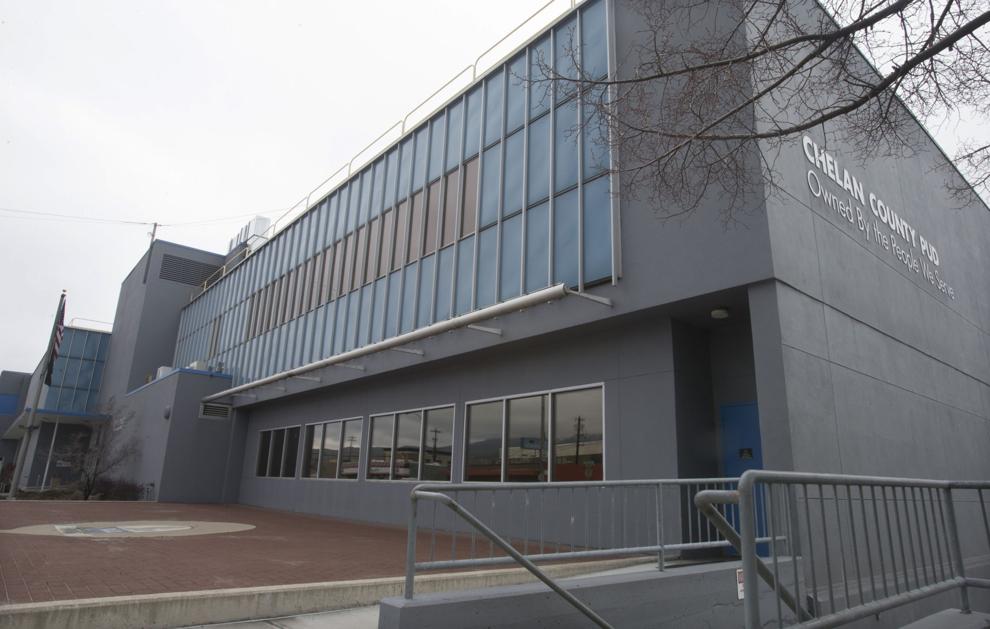 WENATCHEE — Sale and development plans for the Chelan County PUD's Fifth Street headquarters are pushing forward.
The PUD approved an interlocal agreement Aug. 2 with the Chelan Douglas Regional Port Authority (CDRPA) regarding the 8-acre campus on the southeast corner of North Wenatchee Avenue and Fifth Street in downtown Wenatchee.
The agreement is the latest step in an almost two-year development planning process in preparation for the PUD's move to Olds Station. It will turn over responsibility for redevelopment planning, brokering and marketing to the regional port, which will receive a reimbursement of direct expenses not to exceed $50,000.
If the port is able to secure buyers, it will also receive an escalating marketing fee of 2% to 4% of the sales price of the property, which is valued at approximately $5.9 million.
Jim Kuntz, the port's CEO, said the port will look into the viability of adaptive reuse plans, which would remodel and repurpose existing structures for different uses.
Four Supernova finalists compete for $10,000 prize
WENATCHEE — The four finalists for this year's Supernova Business Launch Competition are focused on food, fun, furniture and home inspections.
The businesses, announced July 15, are competing for $10,000 in cash, plus a host of in-kind services. The final selection will be made Aug. 19 at the Ruby Theatre in Chelan. The competition, hosted by the NCW Economic Development District, is designed to help grow small businesses in the region. It is open to entrepreneurs throughout Chelan, Douglas, Okanogan and Ferry counties, and the Colville Confederated Tribes.
C&C Inspections: A home inspection business started in October 2020 by Cassandra Clark, covering Chelan, Ferry, Okanogan and Douglas counties.
Westridge Wood Co.: Dylan Honig's Chelan-based business offers hand crafted, high-end furniture pieces.
Tumbleroot Ranch: Ardenvoir farm owned by Jordan and Ally Pittsinger offers eggs, pork, lamb, wools, honey and bee by-products. They are working on adding onsite cold storage.
Epoch Meet.Game.Refuel: Owners Andy and Leeah Lynn are in the process of opening a family friendly gaming lounge, 16 S. Wenatchee Ave., with gaming as well as a full bar and food.
The other six semi-finalists were:
Mauk Fishing Stuff
Foodie
Atlas Design Co.
Blue Skies Food Shack
Rice Construction
A Hand Spun Yarn
Last year's winner of the Supernova Business Launch Competition was Tonasket Tire.
Wenatchee's post-pandemic economic recovery inches forward
WENATCHEE — Chelan and Douglas counties' economic recovery has made leaps and bounds over the past year, but month-to-month growth is slow.
Last June, COVID-related layoffs drove Chelan and Douglas counties' unemployment to 10%. While that rate dropped to 4.4% in June 2021 compared to the previous year, it was only down 0.5% from May.
That year-to-year change, though, is "good economic news" and "a step in the right direction," Don Meseck, regional labor economist for the state Employment Security Department, said in a recent labor market summary report. It's also the same rate as June 2019, pre-COVID.
Meseck said the year-to-year drop was caused by modest growth in the labor force and a 54.5% decrease in the number of unemployed residents. In fact, June 2021 was the first month in the past 14 months during which the local labor force expanded.
Leisure and hospitality saw the biggest month-to-month increase of 4.8%, followed by trade, transportation, warehousing and utilities at 4%; private services providing at 2.3%; mining, logging and construction at 1.8%; retail trade at 1.6%; and local government at 1.4%. Manufacturing, federal government and education and health services jobs remained stable.
Year-to-year job growth showed a bigger change, with leisure and hospitality also coming in with the largest increase at 38.3%. But the industry is still down 12.2% from pre-COVID.
Projekt Bayern considers lawsuit over Oktoberfest
LEAVENWORTH — Projekt Bayern is considering suing the city of Leavenworth if it does not get a renewed contract for the Oktoberfest festival.
Projekt Bayern Chair Steve Lord said July 29 he was prepared to sue the city if a different organization gets the contract to run the festival. The organization is submitting a proposal to the city for a new contract, he said, but to keep the festival the same as it has been.
Projekt Bayern is a nonprofit focused on promoting the Bavarian theme in Leavenworth, according to the organization's website. The organization helps put on Oktoberfest, Christkindlmarkt and donates money for Bavarian-themed projects around Leavenworth.
Lord estimates Oktoberfest brings in $20 million in tourism revenue to the restaurants and hotels in Chelan County, he said. Hotel rooms as far away as Chelan get booked in October and changing the format of the festival will endanger that business, he said.
The city of Leavenworth canceled the contract with Projekt Bayern in March to revamp some of the terms of the agreement, Leavenworth Mayor Carl Florea said. The city never intended to take the festival away from Projekt Bayern, but it did want to work with the group to change how the festival is run.
The city wants to expand the festival to include the weekdays and not just the weekends in the hopes of reducing some of the weekend crowds, while at the same time reducing the festival's footprint. In the past, the event has used three parking lots and the Festhalle.
The city is also interested in creating more family friendly events and reducing the focus on the beer gardens, Florea said.
Liberty Cinema reopens three of eight screens; upgrades coming soon
WENATCHEE — Liberty Cinema reopened Aug. 30 for the first time since closing in March 2020 because of COVID-19 restrictions.
Owner Sun Basin Theatres, which also owns Gateway Cinemas in Olds Station, is running three of the Liberty's eight screens and beer and wine options are now available at the theater's concession stand. Some other upgrades are in the works, including a self-serve popcorn machine, new leather seats and swivel food trays.
The hope is to have the improvements complete and all the screens open before Thanksgiving, said Bryan Cook, vice president of Sun Basin Theatres.
East Wenatchee eyes regional stormwater management facility
EAST WENATCHEE — The City of East Wenatchee is in the early stages of design for a regional stormwater facility that would accommodate runoff from the entire 19th Street corridor, including around 900 feet of Douglas County's Cascade Avenue.
Currently water in the corridor flows through a series of roadside ditches, short segments of piping and paved shoulders.
Garren Melton, the city's natural resource specialist, said the city wants to prevent pollutants carried in
runoff from reaching the Columbia River.
"By having this facility at the bottom of 19th Street, we're basically putting a large filter in to catch these pollutants," he said.
The design project is currently contracted for $248,500 — $233,500 of which has been funded through a state grant. Since the project is still early in the design process, the city does not yet have estimates on how much the facility would cost if built, when it would be implemented or what it might look like.
State bag ban poses issues for Wenatchee businesses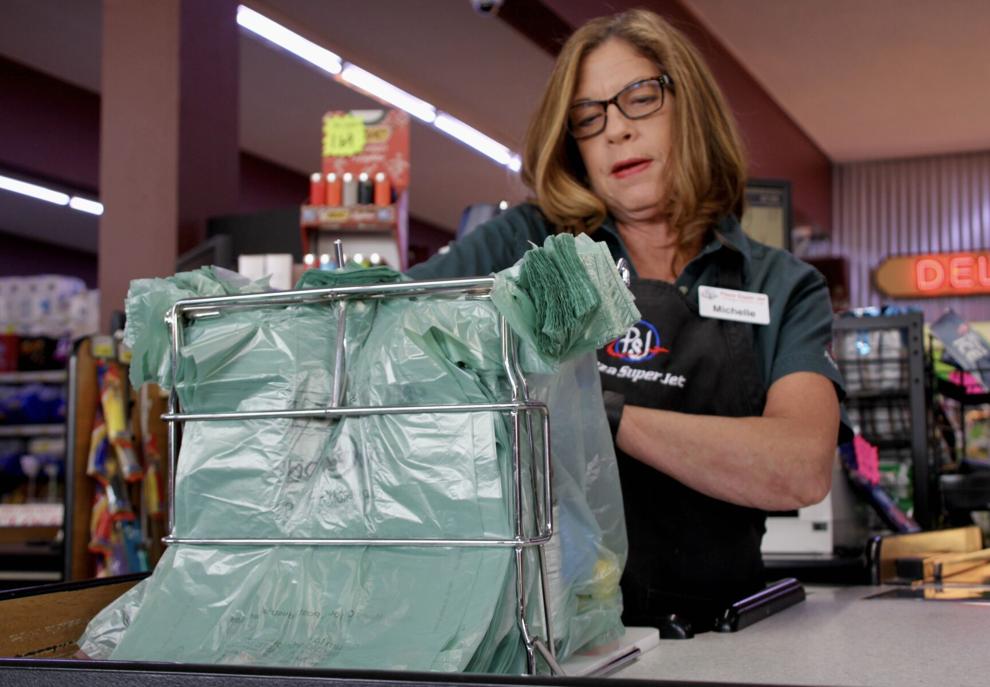 WENATCHEE — A statewide ban on single-use plastic bags will go into effect Oct. 1, but local business owners say the transition may be rocky.
The ban was initially scheduled to begin Jan. 1, but Gov. Jay Inslee delayed it through a proclamation due to the limited availability of compliant bags, according to a press release from the state Department of Ecology.
Local businesses owners' concerns about the ban include supply chain issues, cost increases and customer reactions. The ban will apply to restaurants, grocers, retailers, convenience stores, farmers markets, food trucks, temporary stores and home delivery services. Food banks will be exempt.
Under the new law, stores can use paper bags made with 40% recycled content and plastic bags made with 20% recycled materials and that are a minimum of 2.25 mil thick. Both plastic and paper bags will come with an 8-cent charge. According to the Department of Ecology, there will also be no restrictions on customers bringing in their own bags.
Francisco Cuevas, the owner of Futbol-Era Soccer Store on South Mission Street, is concerned about where he will find bags that are compliant with the new law. He is currently looking into plastic and paper bags and hopes his current bag vendor — Costco — will sell ban-compliant bags.
"I have no idea who sells the bags," Cuevas said. "I don't know where to get them and how much it will cost me."
Depending on the cost, he said he may end up not giving out bags at all.
Victor Garcia, general manager of Original J's Teriyaki in East Wenatchee, is also concerned about bag pricing.
The restaurant is evaluating ways to absorb the increased cost of bags, including discontinuing specials, switching plates or changing prices. Unfortunately, Garcia said, higher bag costs will come in conjunction with other increased supply costs. Just this week, for example, their chicken went from $68 a case to $110.
Super Plaza Jet owner Jeff Lau also worries about how an already strapped supply chain system will handle the transition. He has yet to see paper bags that comply with the law. He added that with supply costs fluctuating so much, it's difficult to know what the new bags will cost.
He also anticipates some logistics issues in complying with the new law. The ban exempts customers using food assistance programs like WIC from the bag fees, even if those customers are also using another purchase method. Customers only need to show some proof of their program benefits to be exempt for the entire purchase, according to Shannon Jones the material coordinator for the state Ecology Department, which oversees the implementation of the new law.
Confluence Health: Won't renew contract with Premera Blue Cross
WENATCHEE — More than 36,000 patients with Premera Blue Cross health insurance will be considered out-of-network with Confluence Health on Feb. 1, 2022, unless the two sides settle a price dispute before then.
Confluence Health is disputing Premera's pay rate in negotiations that started in April, said Confluence spokesman Andrew Canning. After making little progress, Confluence publicly announced the likelihood that the contract, which ends on Jan. 31, 2022, would not be renewed.
Premera countered that the discussions are continuing.
PFD says Town Toyota Center debt will be completely paid off in 10 years
WENATCHEE — There's an end in sight to the Town Toyota Center's financial woes.
The Greater Wenatchee Regional Events Center Public Facilities District (PFD), which owns the $53 million facility, is working on refinancing the center's remaining debt — about $37 million — and expects to have it completely paid off within 10 years, said Frank Kuntz, the PFD Board president and Wenatchee's mayor.
Refinancing will mean a shift from a 5.5% interest rate to 3.5% or less, resulting in $8 million in savings over the next decade, according to Kuntz.
"In essence, we're basically just refinancing them to recoup the interest savings in a market that allows you to refinance at lower interest rates," he said. "We're betting the rates are about as low as they're gonna get."
The refinance will not impact the sales tax implemented to pay off the center's  debt — a 0.2-cent sales tax in Wenatchee and a 0.1-cent sales tax in the cities of Cashmere, Chelan, Entiat, Waterville, East Wenatchee, Rock Island as well as Chelan and Douglas counties. Those taxes can only be used to pay off the debt and will expire once the debt is paid.
In addition to the 0.1- and 0.2-cent sales taxes, the PFD also gets a .033-cent sales tax rebate from the state. Kuntz said the tax generates about $1.2 million annually, enough to cover the arena's operating losses, which range from $300,000 to $500,000 a year. The excess tax revenue is used for things like repairs or new hardware.
But Kuntz added the arena is not and likely never will be profitable: "Arenas like this generally don't generate a profit. People generally use a little bit in operational costs. They're just expensive to operate."
Port plans to redevelop former Giga Watt site as trades district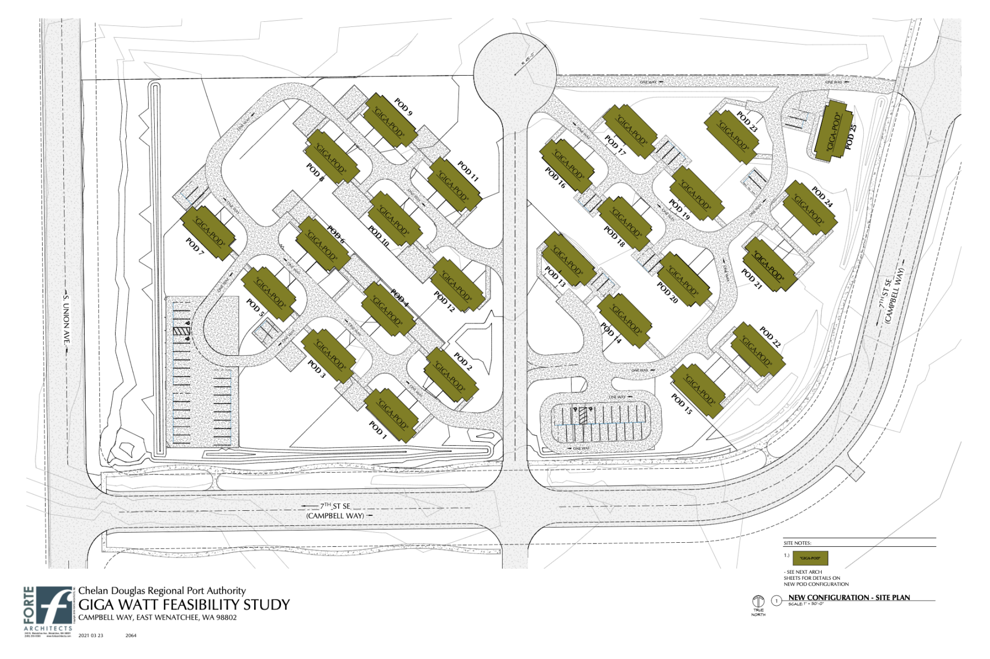 EAST WENATCHEE — A development in Pangborn Business Park previously slated for cryptocurrency mining will instead be leased to small businesses.
The Chelan Douglas Regional Port Authority is in the early stages of creating a trades district on property formerly leased by cryptocurrency miner Giga Watt. The project would provide small businesses with a brick-and-mortar location as well as free one-on-one business consulting.
"This is truly a project where if you build it, they will come," Port Authority CEO Jim Kuntz said during an Aug. 10 board meeting. "This is going to be an interesting play if we can get there."
After leasing the land in 2017, Giga Watt went bankrupt a year later, leaving a number of "pods" in various states of completion. The port gained ownership of the buildings in addition to the land through an agreement with the bankruptcy court. Last July, the Port received a a $50,000 grant and a $16,667 state match to study potential uses for the property.
Now that the port has decided on a specific use for the property, the next step is finding funding for the redevelopment project, which is estimated to cost $11.6 million.
The port plans on seeking a number of funding sources, the largest being $7 million in the form of an U.S. Economic Development Administration (EDA) grant.
Port, S.P.O.R.T. agreement for Lineage buildings dissolves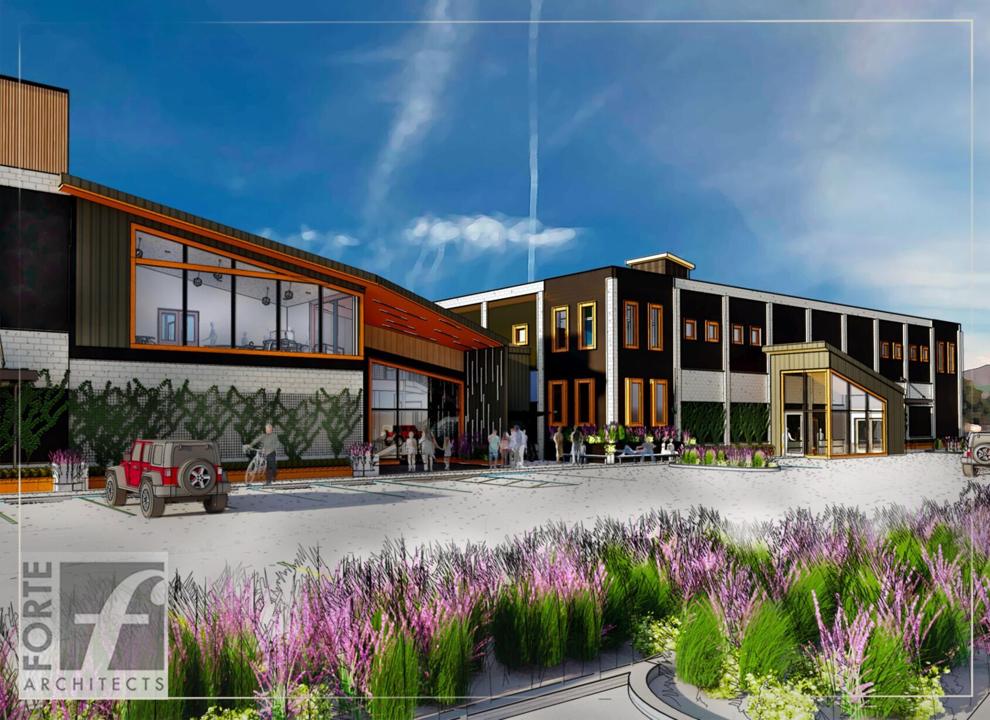 WENATCHEE — The Chelan Douglas Regional Port Authority opted not to renew a $2 million purchase-and-sale agreement with S.P.O.R.T. Gymnastics on Aug. 10.
A previous agreement expired Aug. 2 after S.P.O.R.T. failed to secure financing and file a completed building permit with the City of Wenatchee by the stipulated deadline.
With the end of the agreement, the property is now open to other buyers, but the port will not actively market it.
The developer, Flint Hartwig, said he miscalculated how much time he would need for the project when the agreement was initially signed in August 2020. Although he has turned in preliminary plans, the city has not yet deemed them complete.
Kuntz said the port's board remains supportive of the project.
"The concept moving forward is to avoid setting hard timelines that cannot be met," he said in an email. "S.P.O.R.T. can and should continue to work on plans to submit to the city and to finalize its financing plan."
S.P.O.R.T is planning a multi-use activity center using three buildings on the corner of Columbia Street and Orondo Avenue, a property formerly owned by Lineage Logistics, that total 36,830 square feet. The center would include a roof-top bar, zip-lines, batting cages and ninja course.
$709,000 in community funding coming to Wenatchee
WENATCHEE — The Wenatchee City Council finalized how it will allocate $709,000 in federal funding during its Aug. 5 council meeting. Nearly half the funds were allocated for a low-barrier homeless shelter.
The money comes from the city's annual allocation from the HUD's Community Development Block Grant (CDBG), which helps state and local governments provide decent living environments and expand economic opportunities principally for low- and moderate-income residents.
The low-barrier shelter, a project the cities of Wenatchee and East Wenatchee have teamed up on, will receive $323,651.
Chelan-Douglas Community Action Council will receive $30,000 for its Literacy Council program, and Community for the Advancement of Family Education (CAFÉ) will get $5,000 to provide tutoring for low- to moderate-income families with English as a second language.
The remaining funds will be put toward city programs:
$49,210 for CDBG program administration and planning
$38,600 for code enforcement
$150,000 for the Lincoln Park renovations
$113,000 for complete streets, non-motorized infrastructure projects.
Vin du Lac Winery's new label supports affordable housing
CHELAN — Chelan's Vin du Lac Winery is donating 10% of sales proceeds from its new "ABODE" label to the Chelan Valley Housing Trust.
"Affordable housing is a crisis in Lake Chelan," Vin du Lac owner Larry Lehmbecker said. "Our wine industry has helped make the Chelan Valley more economically viable year-round and a more desirable place to live. But as a result, essential workers in the service, hospitality, health care and education industries can't afford to live here. This problem can only be solved by community members recognizing the problem, taking responsibility, and contributing to address it."
Lehmbecker presented the nonprofit with a $5,000 check — what he called a "down payment" — this month from advance sales of 2,500 bottles of ABODE.
Group looks to form art alliance in Wenatchee
WENATCHEE — A collection of Wenatchee-area residents is in the early stages of forming an art alliance.
If established, the art alliance wants to be a support system for artists in the community and a resource to connect residents with artists.
"I look at other cities and towns that have kind of an art hub, whether it's geared around a museum or art gallery of some kind, those centers really help people stay connected to each other," said Kmbris Bond, the chairperson of the group. "And though we have so many rich arts available as a community, we really don't have that connective center."
A seven-member steering team consisting of local artists, educators and activities are currently surveying residents to see what the scope and responsibilities of the group should be.
In addition to Bond, current members of the steering committee are Scott Bailey, Lindsay Breidenthal, karen dawn dean, Natalie Dotzauer, Jamie Howell and Alessandra Piro.
An art alliance that previously operated in Wenatchee folded decades ago, and Bond said several other groups have tried and failed to revive it. However, members are confident the time is right.
Bailey, a committee member and the director of Wenatchee Valley College's Art Program, said this group will eventually need to hire someone to run it full time. The previous efforts to establish an art alliance were on a volunteer basis, which Bailey said is not sustainable long term.
Among the possible events the group said they could potentially help host is the First Friday Art Walk, which was organized by local businesses and artists and put on hiatus last year due to the pandemic.
East Wenatchee sporting $160,000 extra in events funds
EAST WENATCHEE — What would you do with an extra $160,000?
That's what East Wenatchee's Events Board is trying to figure out. Due to COVID-19 cancelations, the board now has a surplus of more than $160,000.
The board helps fund events that unite the community and increase tourism, such as the Wings and Wheels Festival and Car Show. Its funds come from the hotel/motel tax, which gives cities about 4% of each hotel stay fee.
Even though the pandemic had a negative impact on the number of hotel stays, the fund came out ahead due to the opening of the Fairfield Hotel in late 2019 and conservative budgeting, said Events Director Trina Elmes.
"Until we're past COVID, it's hard to know what events are coming back and which ones will request funding," Elmes said. "Ideally, we would love to see more events happening in East Wenatchee, that would bring in tourism, and to be able to help those events get up and running."
Leavenworth pushes for highway improvements
LEAVENWORTH — Chelan and Douglas counties have pushed non-stop for nearly two decades to implement the $285 million Apple Capital Loop transportation project. With a good chunk of the project funded, it may be time to identify new priorities.
Leavenworth Mayor Carl Florea called on
the Chelan-Douglas Transportation Council to do just that during an Aug. 12 board meeting.
Florea presented three projects along Highway 2 as possible additions to the council's existing list of priorities:
Improvements to River Bend Drive in Leavenworth, including extending the westbound right-turn lane at Chumstick Highway and updating traffic signals at Front Street. Cost estimates for this project varied based on phased implementation.

A pedestrian crossing under Highway 2 near the Park and Ride that would connect downtown Leavenworth to residential neighborhoods.It is estimated to cost $3.5 million to $4 million.

A roundabout at Icicle Road and Highway 2 that is estimated to cost about $3 million.
Florea said the town's gridlock at times exceeds anything experienced by other communities along Highway 2 and that Leavenworth's traffic issues impact the entire region.
Chelan, Douglas to distribute $5 million in federal transportation funding
WENATCHEE — The Chelan-Douglas Transportation Council announced Aug. 12 how it will allocate nearly $5 million in federal funding.
The council received the money earlier this year through the Surface Transportation Block Grant and Transportation Alternatives programs, which distribute funding every two years.
$919,834 for Sunset Highway in Cashmere

$1.2 million for Highway 2/97 Cascade intersection improvements in Douglas County

$2 million for Totem Pole Road improvements in Chelan County

$704,295 for the McKittrick Street/North Columbia Street intersection in Wenatchee
CDTC Director Jeff Wilkens said the council must meet additional steps with state and federal agencies to make the money available to spend, but that funds are officially committed to the above projects.
East Wenatchee releases additional ARP funds
EAST WENATCHEE — The city's roll out of $3.1 million in federal COVID relief funds is marching on.
Two additional allocations of the city's funds from the American Rescue Plan Act were announced during the Aug. 17 council meeting: $2,500 for Wellness Place and $12,500 for Small Miracles.
The city has already released additional funds to the Women's Resource Center and the YWCA.
Nonprofits that serve East Wenatchee and have a financial need can apply for funding on the city's website — wwrld.us/3xqWiTY. Applications will be reviewed on a monthly basis. Once an application is approved, it will take about 1-2 weeks for the city to process a check.
East Wenatchee finances thriving: 'It's gotta be a record'
EAST WENATCHEE — The city of East Wenatchee is in good financial shape, according to its latest financial report.
The report, which compares revenue and expenditures from June 2021 to June 2020, paints a positive picture of the city's finances.
"The city has strong fund balances, and these should continue barring any further pandemic setbacks," East Wenatchee Finance Director Josh DeLay said. "We're in a great financial position, which will allow us to continue to upgrade and modernize city infrastructure. You will see increases in our expenditures in the next few years for these upgrades, but these are all planned and that's the reason why cities build up their fund balances."
During a presentation of the financial report to the City Council on Aug. 3, DeLay said the city's cash balances for all funds at the end of June were at $11.2 million.
"It's gotta be a record, not even close," DeLay said. "I don't think we've ever been over $10 million, so it's crazy."
A lot of that increase is thanks to $1.5 million in federal American Rescue Plan funds, but DeLay said tax revenue increases outpacing expenditure increases have also contributed.
DeLay said sales tax is up 24.1% from last year, "which is incredible. The numbers are just rolling in, it blows my mind."
Gambling taxes are up 104% from last year. Meanwhile, gas tax is down less than 1% and hotel motel tax is up 15.8% — both substantial improvements from earlier in 2021, according to DeLay.
Revenue from operating funds is up 59% compared to June 2020 and non-operation funds increased by 38%.
DeLay said the increases are a combination of what appears to be a recovery from the pandemic, federal dollars received for the American Rescue Plan and a limited tax general obligation bond the city took out for capital purchases and improvements.
Salvation Army offers up possible low-barrier shelter location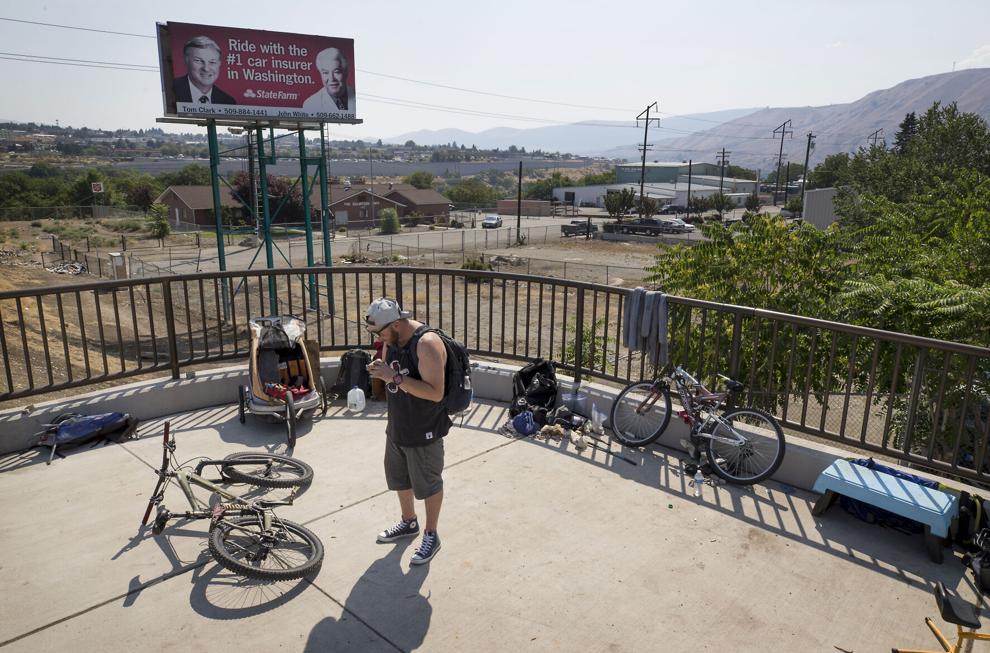 WENATCHEE — The hunt to find a location for a low-barrier shelter to serve Wenatchee and East Wenatchee may soon be over.
The two cities are eyeing a possible location across from the Salvation Army Social Service Office on South Columbia Street in Wenatchee.
The shelter will fill a need for additional beds in the area, which will in turn give police greater flexibility in their interactions with individuals experiencing homelessness. Cities cannot enforce ordinances that prohibit sleeping or camping on public property when there are not sufficient homeless shelter beds.
Glen DeVries, Wenatchee's community development director, said the Salvation Army expressed interest in partnering on the shelter earlier this year after the Wenatchee and East Wenatchee city councils passed a sales tax to help fund the shelter and expand services for those experiencing homelessness.
The organization has a few vacant lots as well as an adjacent property owner with a vacant property who is willing to participate.
The cities have provided the private land owner and Salvation Army with a mock layout of the shelter and both parties indicated interest, said DeVries.
The mock layout shows the location would hold 46 shelters, including some units accessible for those with disabilities, that would be a mix of single and double occupancy. The facility would also feature a storage area for personal items, dog off-leash area, wrap-around chain-link fencing, two picnic tables and an administrative building.
Meanwhile, the East Wenatchee and Wenatchee are working on an agreement that would lay out how the cities will share shelter responsibilities.
North Central Washington grew in size, diversity over the past decade
WENATCHEE — North Central Washington's total population, as well as the share of Latino residents, increased over the past decade, according to census data released Aug. 12.
The numbers are the first release of data from the 2020 census, which was impacted by the COVID-19 pandemic and concerns about a citizenship question that was proposed but never implemented.
The trends mostly follow those in the rest of the state and country. A notable exception is that while the country at large saw losses in rural populations, the largely rural counties of the region did not have dips in population.
Chelan, Douglas, Grant and Okanogan counties saw total population increases of 9%, 12%, 11% and 2%, respectively. Combined, the counties are now home to over 263,000 permanent residents — an increase of more than 22,000 individuals since 2010.
The county's populations also changed in terms of race and ethnicity. For example, the white percentage of the population dropped in Douglas, Grant and Okanogan and Chelan counties.
Meanwhile, populations identifying as Latino or as two or more races increased in all four counties. Okanogan had the smallest Latino population rise in the region with only a 1% increase in the past decade. Both Grant and Douglas counties' Latino populations increased by 5%, while Chelan's increased by 3%.
Grant County still has the largest percentage of Latino residents at 43%, followed by Douglas with 34%, Chelan with 28% and Okanogan with 19%.
Grant came in at No. 4 in the ranking, Okanogan at No. 7 and Douglas at No. 8.