COVID-19 Timeline | Spring brings renewed hope, with caution | Business World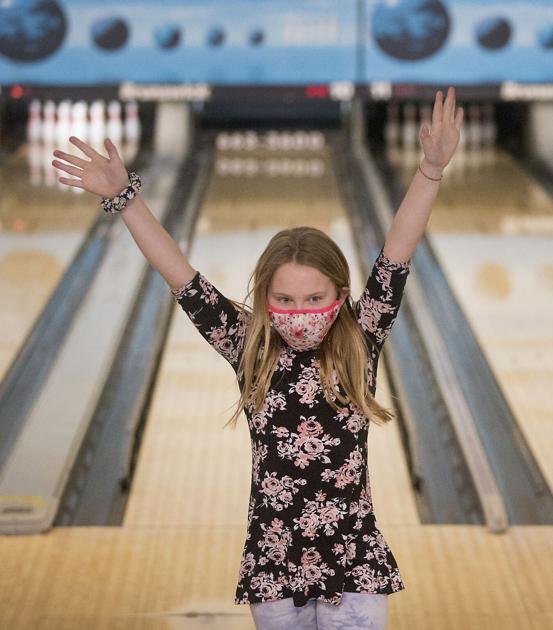 Losing sleep — beyond the hour sacrificed to daylight savings time's arrival March 14 — might soon be less about the uncertainty stemming from the pandemic and more about the thrill that comes with opportunity.
The victory lap is likely months away, but progress is palpable. Vaccinations continue at a good clip. Students are back in school — at least part time. Even high school football is back — albeit in March rather than November.
Business owners are talking about next steps rather than backup plans. Bank accounts are gearing up for an influx of cash from the federal "American Rescue Plan Act," which might make paying income and property taxes less painful. Local governments, nonprofits and health care officials are finding more time to deal with routine tasks while adapting to new normals.
Like the spring season, when winter sometimes makes one last run, it's not all sunshine, with that still-present, lingering suspicion that the pandemic might default to the old plot twist — resurging just when it looks like it's safe.
Staying on guard while taking tentative steps to plan for the future seems to be the theme as the Wenatchee Valley Business World heads to press for this April issue. It's a difficult line to walk, but better, as they say, than not walking at all.
Here are some of the COVID-19-related developments from the past few weeks:
Friday, Feb. 19
Sen. Brad Hawkins urges school districts to swap spring and summer breaks due to COVID.
Friday, Feb. 20
Gov. Jay Inslee signs $2.2 billion COVID-19 relief package to help schools, business, renters and others.
Winter storms across the country could delay COVID-19 vaccine shipments bound for Washington, potentially limiting the number of appointments available at Wenatchee's mass-vaccination site. So far, 12,252 people have been vaccinated at the Town Toyota Center.
Monday, Feb. 22
The nation mourns 500,000 deaths from COVID-19, acknowledged with a ceremony held at the White House.
The metrics look good for the North Central Region to stay in Phase 2 of Gov. Jay Inslee's Roadmap to Recovery plan. The region must continue to pass three of four metrics to remain in Phase 2.
A shipment of Pfizer-BioNTech vaccine doses bound for Wenatchee arrives, curbing fears that appointments would be delayed.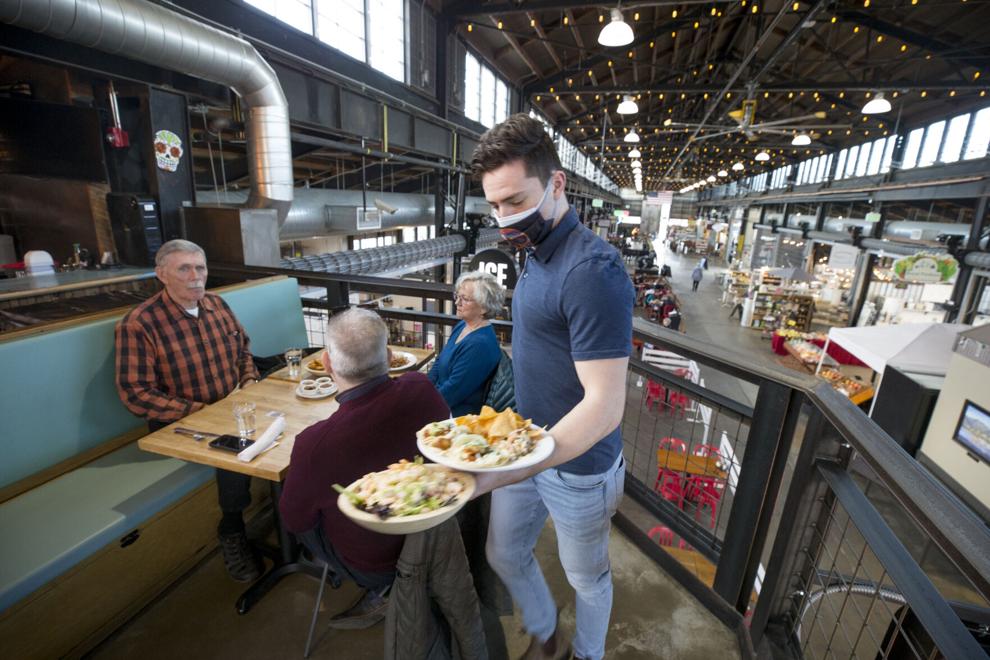 Tuesday, Feb. 23
Chelan and Douglas counties see COVID-19 numbers at the lowest levels they've been in four months — less than 200 positive cases per 100,000 people over a two-week period. The number of tests coming back positive is 6%, down from 14% several weeks ago.
About 24,500 people in Chelan and Douglas counties have received their first dose of the vaccine and 16,000 of those have received their second shot. Some pharmacies are also starting to offer vaccinations.
Wednesday, Feb. 24
Students at Wenatchee and Eastmont high schools are back in classrooms part time. Each district uses a different hybrid model.
Thursday, Feb. 25
Wenatchee Valley restaurants reopen to indoor dining — and hope for the best, with no guarantee the region will remain in Phase 2 of the governor's reopening plan, which allows indoor seating at 25% capacity. The next announcement of the region's status is expected Friday.
A day ahead of when the announcement on whether the region would remain in Phase 2 for the next two weeks, Inslee announces all regions will remain in Phase 2 for the foreseeable future, without fear of returning to Phase 1. He provided no details on what a Phase 3 might look like, raising concerns with business owners.
The Grant County Health District reports six more residents have died from COVID-19 bringing the total number to 115. In Chelan County, 42 people have died from COVID-19, and in Douglas County, it is 17 people.
Saturday, Feb. 27
The abbreviated high school fall sports season gets underway.
Tuesday, March 2
Gov. Jay Inslee announces teachers, childcare workers are eligible for the COVID-19 vaccine following a presidential directive. The announcement follows a directive by President Joe Biden.
The Chelan-Douglas Community Action Council gets more funds to help residents in need with rent assistance.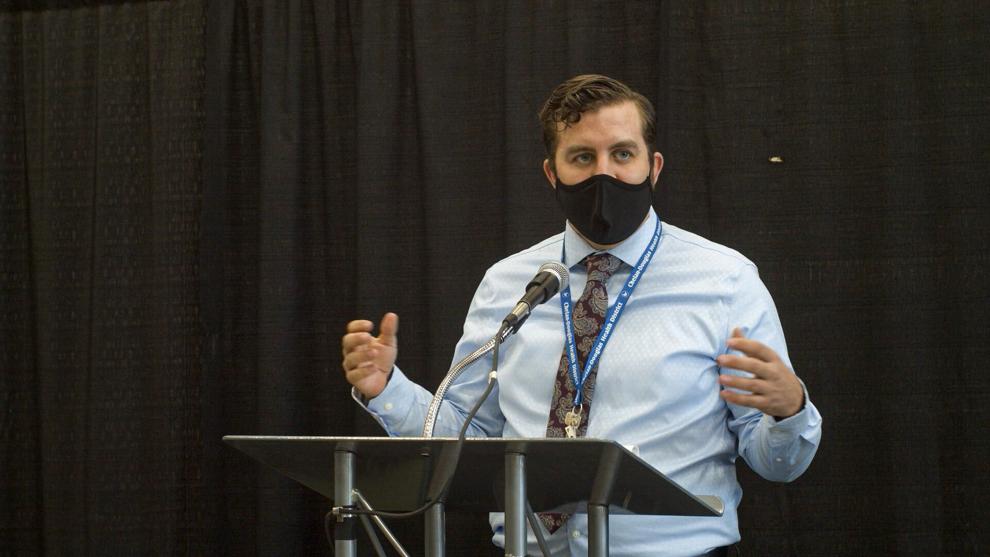 Wednesday, March 3
The one-shot Johnson & Johnson vaccine is approved for use by the Western States Scientific Safety Review Group, allowing it to be distributed in Washington, California, Oregon and Nevada.
The COVID-19 rate in Chelan and Douglas counties for the two-week period ending March 3 is at 134.3 per 100,000 people.
The Town Toyota Center mass vaccination site makes space for teachers, school staff members and child care workers to schedule COVID-19 vaccine appointments, starting with an additional 100 slots Thursday and Friday. More will follow next week.
Thursday, March 4
Ag workers, law enforcement and grocery workers will be allowed to get COVID-19 vaccines starting March 22, Gov. Jay Inslee says. People age 50 and older with two or more underlying health conditions will qualify starting April 12 and on April 26, all people age 16 and older with two or more underlying health conditions and those living in congregate settings will qualify. The dates are based on when vaccines will be available.
Six more people in Chelan, and Douglas counties are added to COVID-19 death toll, bringing the total to 65 in Chelan and Douglas counties, 115 in Grant County and 34 in Okanogan County.
Monday, March 8
The state reaches its goal to vaccinate 45,000 people a day and starts moving to its next vaccination phase. About 46,000 doses have been delivered in Chelan County and about 2,400 doses in Douglas County.
Grant County reports a 10-year-old child is recovering at home after coming down with multisystem inflammatory syndrome from COVID-19, the first reported locally.
The Wenatchee School Board discusses bringing back all students full time in April.
Tuesday, March 9
The COVID-19 variant first identified in the United Kingdom is found in a test sample collected in Benton County. As of March 3, the state had reported 70 cases of the UK variant and five cases of the variant first identified in South Africa.
Wednesday, March 10
The Wenatchee Veterans Affairs clinic offers COVID-19 vaccines to eligible veterans. About 280 veterans received their first dose and more than 40 have received their second.
Nine deaths are added to COVID-19 toll in Chelan County. The additional deaths occurred between October 2020 and January 2021. It brings the total number of deaths in Chelan County to 55. Grant County reports 115 deaths, with 34 in Okanogan County and 19 in Douglas County.
The Wenatchee Valley Museum & Cultural Center reopens for general admission, no reservations required. Previously, guests needed to purchase tickets in advance. Social distancing and masks are still required.
Three hundred doses of COVID-19 vaccine leftover from a school employee vaccination clinic are distributed to Chelan County PUD and Wenatchee Valley College employees. The Town Toyota Center mass vaccination site had about 900 doses ready for school teachers and employees from Eastmont and Wenatchee schools. About 600 showed up.
Gov. Jay Inslee on March 11 introduced Phase 3 of the Roadmap to Recovery plan that includes in-person spectators for professional and high sc…
Thursday, March 11
Gov. Jay Inslee says all regions of the state will move to Phase 3 of the "Roadmap to Recovery" plan starting March 22. Spectators will be allowed at sporting events and indoor spaces (restaurants, gyms, movie theaters) can operate at 50% capacity. The new phase also allows up to 400 people to gather at indoor and outdoor activities, as long as it does not exceed 50% capacity. Larger venues, mainly sporting arenas in the Seattle area, can have up to 9,000 people or 25% capacity, whichever is less.
New county-by-county metrics are introduced, with decisions made every three weeks, starting April 12, on whether the counties will remain in their current phases or move back to Phase 2 or Phase 1. Currently, Chelan County has a COVID-19 rate of 104.9 per 100,000 people over a two-week period and Douglas County's rate is 154.3. To remain in Phase 3, Chelan and Grant counties, grouped  among the larger counties in the state, need a rate of less than 200 per 100,000 and must have fewer than five new hospitalizations per 100,000 over one week. Douglas and Okanogan counties, which qualify for the small county metric, need to have fewer than 30 new cases over a two-week period and fewer than three new hospitalizations to remain in Phase 3.
Agriculture and grocery workers will get vaccine appointments starting March 17, ahead of the previously announced March 22 timeline.
President Joe Biden signs into law a $1.9 trillion "American Rescue Plan Act" that will deliver $1,400 checks to most Americans, extends unemployment benefits and provides direct funding to cities and states. Chelan County is expected to receive $15 million, with Wenatchee slated for $5.9 million, while East Wenatchee will receive $3.6 million. 
Friday, March 12
St. Patrick's Day parades are canceled in Wenatchee and Cashmere, for the second year in a row because of COVID-19 concerns. Decisions on other events are still in flux. Projekt Bayern announces that Leavenworth's Oktoberfest is canceled for 2021. Numerica Performing Arts Center leaders say September is the earliest it is expecting to reopen. 
Saturday, March 13
The Town Toyota Center mass vaccination site has distributed 26,852 doses since it opened.
Monday, March 15
Gov. Jay Inslee signs an emergency proclamation requiring students statewide to return to class — in some form — starting April 5 for elementary age students and April 19 for all students. School districts locally are ahead of the game.
Okanogan County creates one-stop vaccine registration.
The state Department of Health cautions a fourth wave of COVID-19 infections could be coming, spurred, in part, by variants.
Chelan and Douglas counties have an infection rate of about 100 cases per 100,000 people. About 28% of Chelan County residents have received a first dose of the vaccine and 19% have received both doses. In Douglas County, 21% have received a first dose and 15% a second dose.
Tuesday, March 16
Washington State Apple Blossom Festival organizers say this year's festival will happen June 3-13. Some events will be contingent on pandemic-related guidelines. The events will include the food fair, arts and crafts fair and entertainment at Memorial Park, and carnival. The parade is scheduled for June 12.
Wednesday, March 17
Vaccinations begin for agricultural workers, grocery store workers and other essential workers. Health officials estimate between 8,000 and 12,000 residents are in the new Phase 1B Tier 2 group.
Gov. Jay Inslee tours the mass vaccination site at the Town Toyota Center and visits Chelan Fruit, one of the first fruit packing companies to start vaccinating agricultural workers.