Delaware First: Deciphering the data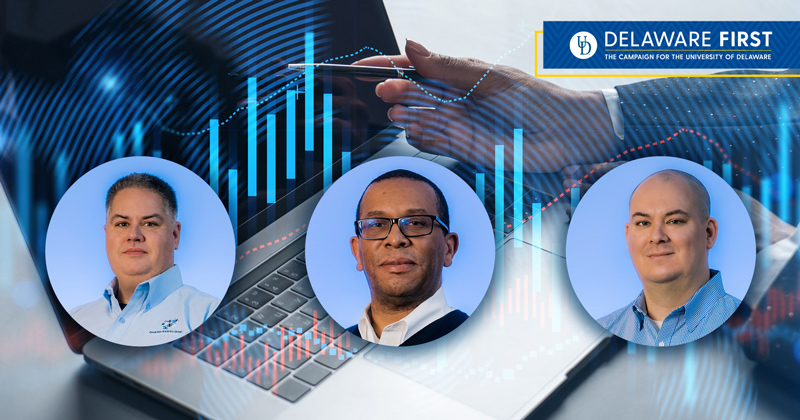 Article by Dara McBride
Photos courtesy of Predictive Analytics Group ǀ Illustration by Heidi McDonough
January 04, 2022
Online transactions, mobile apps, sensors, social media and more – data is everywhere. Whether working in the healthcare industry, finance or even professional athletics, running the numbers can result in key findings that benefit both organizations and consumers. But first, one has to know how to decipher the data.
Enter Predictive Analytics Group (PAG), a company formed by three University of Delaware alumni that is poised to leverage the boom in business analytics – an industry that the U.S. Bureau of Labor Statistics predicts will grow by up to 35 percent between 2019 and 2029.
The company, which employs 25 people from offices on UD's Science, Technology and Advanced Research Campus – 40 percent of whom are Blue Hens – recently extended its support of the Alfred Lerner College of Business and Economics' business analytics major and University through Delaware First: The Campaign for the University of Delaware by establishing an endowed scholarship.
"Being able to partner with our alma mater and then sharing what we experienced as students and throughout our careers has been, and will continue to be, very rewarding for all of us at Predictive Analytics Group," said CEO Stephen Hoops, a 1998 graduate of Lerner College. "We are proud to be the first company to fund a scholarship like this for the business analytics major and to support the next generation of top business analysts. The University is already doing a terrific job in this area as we've seen with the people we've hired and brought in as interns and contractors."
Hoops, alongside co-founders and former classmates Dee Ridgway and David LaRoche, also Lerner graduates from the class of 1998, brought their own experiences in top roles at major financial institutions to their full-service management consulting company – and to emerging data analysts. Launching the scholarship has been personally meaningful to the company leaders, especially Hoops, who originally attended the University on an athletics scholarship. When an injury abruptly changed his plans, he found himself changing majors and working at MBNA America full-time in order to graduate.
"Working full-time while I was in school made me who I am today, but it's not something I would wish on today's students," Hoops said. "I'd rather students have the ability to concentrate on their school experience and it not be a secondary aspect of their life, which it was for me."
For some time, PAG has made it a priority to support UD and its students through philanthropy as well as sharing their expertise. The company regularly hires recent UD graduates, mentors current students through Horn Entrepreneurship programming and offers internship and part-time positions to undergraduates. 
"Working as a part-time employee for PAG under Dave LaRoche's leadership was a great learning and development experience," said Carson Furci, a senior majoring in entrepreneurship. "I joined PAG this past spring and started working on projects with Dave. Since day one, he has worked hard to be the best mentor and teacher to me that he can be. I have used Excel, Salesforce, Tableau, LinkedIn and learned basic SQL coding, and was included in the redesign and enhancement of the PAG website and other social media platforms that we use. I feel the experience is invaluable and will help me in whatever role I pursue after my graduation." 
As the industry grows and looks for new talent, such hands-on experiences can help emerging professionals and recent graduates stand out to recruiters and employers. Mentorship and experiential learning ensure graduates can find jobs in any number of industries, producing reports and forecasts so businesses can anticipate trends, meet customer needs and manage their products and services better.
"It can be very tough for organizations to onboard and train new hires at once, but we can help students early in their careers," LaRoche said. "So they graduate with a foundation of skills that benefit them and make them attractive to future employers, whether it's working with us or with someone else." 
As the use of data analytics expands, many executives are challenged to consolidate data from multiple legacy systems, develop in-house advanced analytics experience and control access to specific reports across the enterprise. In many cases, they need advanced analytic support but either can't afford them on a full-time basis or don't know where to find them and train them.
Partnering with PAG creates an opportunity not only to encourage students, but also create a pipeline of talent for the industry.
"Today's leading-edge technologies are creating new opportunities for businesses to elevate their performance through data analytics," said Lerner Dean Bruce Weber. "We at Lerner College are delighted to see Predictive Analytics Group and our alumni step in to help advance and support our students in this rapidly growing discipline. I am grateful for PAG's generous philanthropy and mentorship and know that, together, we can further business education opportunities for talented students."
For Ridgeway, who serves as managing partner of U.S. operations and works closely with the UD student interns at Predictive Analytics Group, interacting with current Blue Hens is a chance to tap into fresh talent. Students may stay with the company for several years, so Ridgeway and his colleagues also get to witness students come into their own, as they grow from undergraduate to young professional.
"Our interns are home-grown, but they have their own backgrounds and experiences, so we get insights that are different from when we were at UD in the late '90s and early 2000s," he said.
Investing in fellow Blue Hens and seeing how eager the next generation of graduates is to master the field of business analytics continues to inspire the three UD co-founders.
"The students and recent graduates that work with us are eager to learn," Hoops added. "They want to understand your experiences and there is nothing more rewarding than being able to relay those experiences and offer them meaningful advice that will help shape their own careers."
About the Campaign
Delaware First: The Campaign for the University of Delaware was publicly launched on Nov. 10, 2017. The comprehensive engagement and fundraising campaign unites Blue Hens across the nation to accelerate UD's mission of cultivating tomorrow's leaders, creating solutions to grand challenges, inspiring innovations and transforming lives. The united effort will help create an extraordinary student experience at UD and extend its impact on the region and the world.
Building on the record-breaking support and generosity evidenced by the Campaign, on Oct. 7, 2021, the University announced the extension of Delaware First with a $1 billion goal to further fuel change and innovation for students, faculty, campus and the world.
For more information, call 302-831-2104 or email [email protected].