EDA of St. Clair County wins grant to build state-of-the-art business center on Desmond Landing site
For the past several years, the Economic Development Alliance of St. Clair County has been marketing the Desmond Landing property on the south side of Port Huron, 40 acres of prime waterfront real estate along the St. Clair River. It's easy to see why. The nine distinct parcels that make up the property,
owned by Acheson Ventures
, present a development opportunity congruent with the EDA's own mission: to stimulate the local economy and drive job growth and investment in St. Clair County.
Now the EDA is poised to further lead by example. The EDA of St. Clair County has announced the development of the EDA Business Center on what's being referred to as "Parcel A," an approximately 1.7 acre site where Griswold Street meets the St. Clair River. It's estimated that the project will cost $4.2 million to develop the site.
Cleaned and prepared for development in the early 2000s, the Desmond Landing site was long home to a former rail yard, since cleaned up and ready for development. Early development successes include the YMCA of the Blue Water Area and SEMCO Energy Harborside Office Building. Now, it's the hope of people like Donna Niester, CEO of Acheson Ventures, and Dr. James Acheson himself that the EDA Business Center will help attract further development to the riverfront site.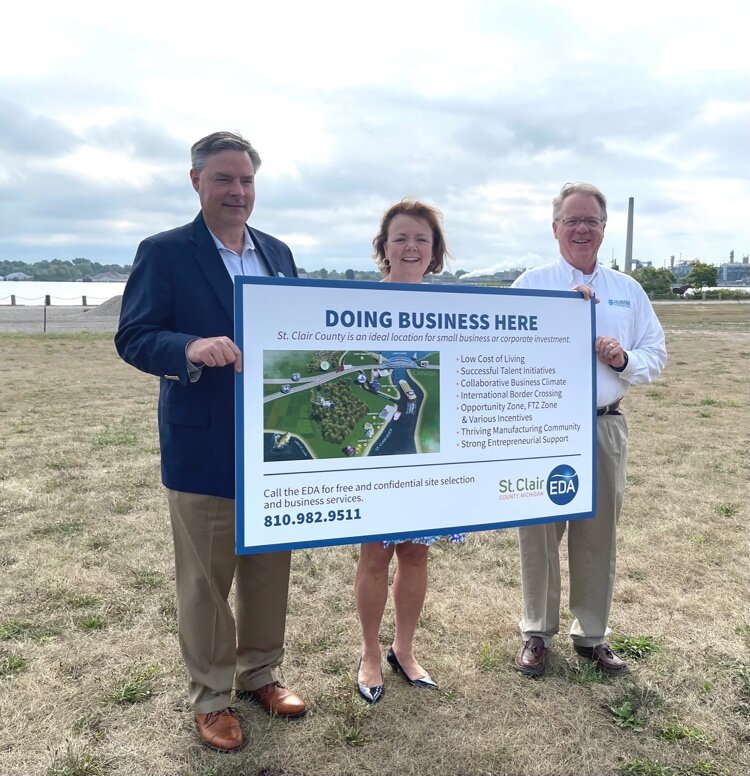 Dan Casey, CEO of EDA of St. Clair County, Donna Niester, CEO of Acheson Ventures, and Edward Brooks, Board President of EDA of St. Clair County and President of Huron Automatic Screw Company (L to R)"Dr. Acheson is very happy to support the Economic Development Alliance of St. Clair County and the development of the new EDA Business Center to strengthen our region's business climate," Niester says. "We anticipate the construction of EDA's modern waterfront facility will also generate new interest in the remaining parcels at Desmond Landing,"
The EDA of St. Clair County has obtained a $3.4 million grant from the U.S. Department of Commerce's Economic Development Administration to help fund construction of the state-of-the-art facility, with $743,421 in local funds and $101,680 in state funds completing funding for the $4.2 million project.
The EDA Business Center will serve St. Clair County small businesses, startups, and budding entrepreneurs, also acting as the hub for the Port Huron SmartZone, a statewide program intended to support homegrown technology companies. Other partnering organizations to call the EDA Business Center home include the Small Business Development Center and the Procurement Technical Assistance Center.
A formal bid process for general contractors is expected to begin this fall.
"EDA of St. Clair County is very grateful to the Economic Development Administration and local partners for this investment which allows us to create a game-changing, south side, entrepreneurial and economic development business center," says Dan Casey, CEO of the Economic Development Alliance of St. Clair County.
"We are surrounded by neighboring communities in Macomb and Detroit, as well other communities such as Ann Arbor, whom have dramatically grown their region's overall business climates through modern entrepreneurial facilities, trending technologies and advanced support services."
Got a development news story to share? Email MJ Galbraith here or send him a tweet @mikegalbraith.