Harvard Grocery Outlet moving to Garden Valley Shopping Center | Business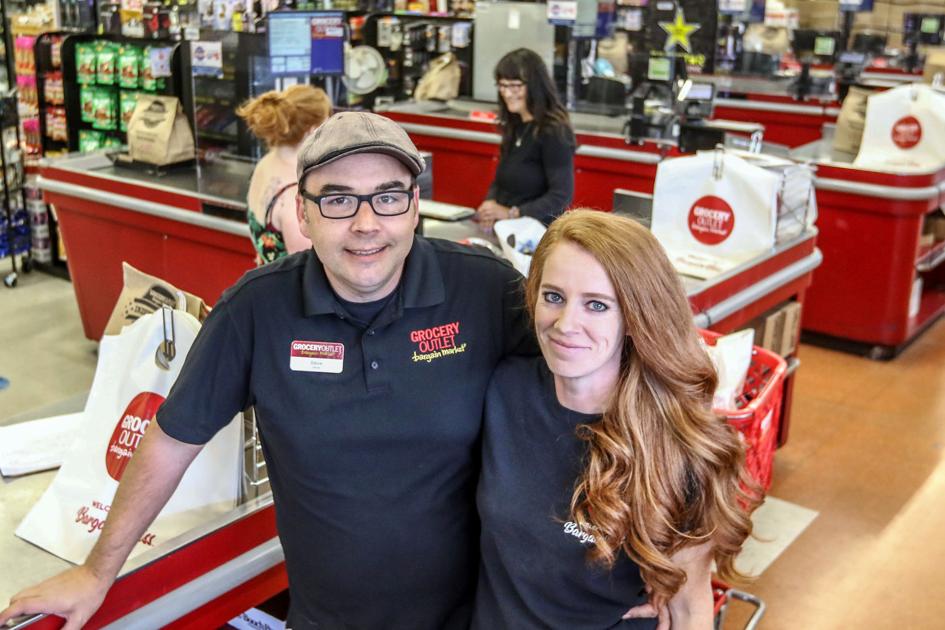 The Grocery Outlet on West Harvard Avenue in Roseburg, which has been serving customers with low-cost food, household goods and other items under different names for 30 years, is moving.
The store, located at 930 W. Harvard Ave., will take over the space formerly occupied by JCPenney in the Garden Valley Shopping Center. The move is expected to take place early next year, said Stephen Burton, who has owned the Grocery Outlet with his wife Kelly since October.
The move will give the Burtons and their new grocery outlet more of everything, Stephen Burton said — more customer parking, more sales and storage space, and with that extra storage space, more opportunities for community service work.
"We are really focused on the positives of this move," Burton said. "In addition to being a brand new build with all the aesthetics of a new store and greatly improved shopping experience for both space and flow, the new building will also allow us to become a stronger community partner and reach even more families in need."
The JCPenney store closed in mid-October after being in business at the same location for more than 30 years. It has sat vacant in the Garden Valley Shopping Center, located at 780 NW Garden Valley Blvd., ever since.
Connie Bennett, who manages the Garden Valley Shopping Center for Silva Management Co. in Eugene, said turning the former JCPenney, which featured clothing, home décor, bedding and the like into a grocery market with large sections of cold food storage is a big job, and work on it is expected to begin this month.
Bennett also said banners announcing the new Grocery Outlet should go up in the next couple of weeks as well as a new sign on Garden Valley Boulevard promoting the Grocery Outlet and other stores in the shopping center, including Michaels, Ross Dress For Less and Dollar Tree.
The former JCPenney, at about 34,000 square feet, will give the Burtons a much bigger space for their Grocery Outlet — about 3,000 square feet of extra sales space and even more storage space.
That will allow the couple to store more goods, which means more savings for customers and more opportunities for community service work, Stephen Burton said.
In the 10 months or so the Burtons have owned the store, they have already been involved in several charitable events, including raising money for Fish Food Pantry and the Dream Project, creating gift baskets for the Association of Vietnam Veterans of America, providing food and water to the Roseburg Senior Center during the recent heat wave.
More recently, Grocery Outlet donated pet food to Saving Grace Pet Adoption Center to help feed animals displaced by the Jack Fire.
"The equipment upgrades, increased size of our sales floor and increase to our storage will put us in a great position for the next steps in our community outreach," Stephen Burton said. "It is currently in the development phase, but a hint to our plans is being able to send as many food-insecure students as possible home for the weekend with enough food so they can concentrate without the distraction of an empty belly. "
A LONG HISTORYThe Harvard Avenue Grocery Outlet store has had a couple of different owners the last few years. In late 2017, Tom Leavitt retired and Mindi and Ken Admire took over as the new store owners.
Leavitt had owned the store with his wife, Ronda Leavitt, since it first opened in 1975. Back then, it was called Canned Foods and was located where Oregon Tool & Supply now stands at 276 SE Stephens St.
A fire in 1988 led to a remodel of the store, then in 1991 when the business outgrew the old building, the Leavitts moved it over to the current location, which provided more room and parking spaces. Eventually, Canned Foods transformed into Grocery Outlet when it began carrying more items like meat, produce, apparel and wine.
The history of Grocery Outlet nationally dates back to 1946, when Jim Read opened a military surplus store called Cannery Sales in San Francisco. In 1971, the store signed its first supplier agreement, with Del Monte.
In 1982, Peter and Steven Read assumed leadership of the company. In 1999, the stores began selling fresh produce, and four years later added fresh meat.
In 2015, Grocery Outlet expanded into the Los Angeles market. Today, Grocery Outlet has more than 400 independently operated stores in California, Idaho, Nevada, Oregon, Pennsylvania, and Washington.
Last year was a difficult year for the Garden Valley Shopping Center, which is owned by RAM Property Development in Eugene. Early in the year, Pier 1 closed. The 10,000 square-foot store had been in the shopping center for 15 years. The spot remains vacant today.
Additionally, the pandemic forced most of the stores in the shopping center to close for much of the year.
While the Grocery Outlet move will give a boost to the shopping center, it will leave the south side of Roseburg without a grocery store. A Safeway located in downtown Roseburg was abandoned more than 20 years ago and razed in 2019.
The north side, meanwhile, has a Fred Meyer, Safeway, Walmart, Sherm's Thunderbird, Albertsons and Costco. Additionally, WinCo Foods has received initial approval to build a new supermarket at the site of the former Kmart, at 2757 NW Stewart Parkway.
Scott Carroll can be reached at [email protected] or 541-957-4204. Or follow him on Twitter @scottcarroll15.