Women's Business Center Welcomes Entrepreneur Loni Love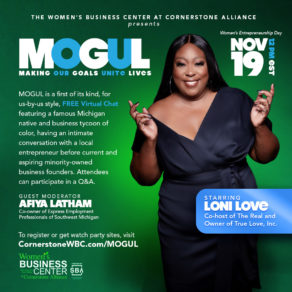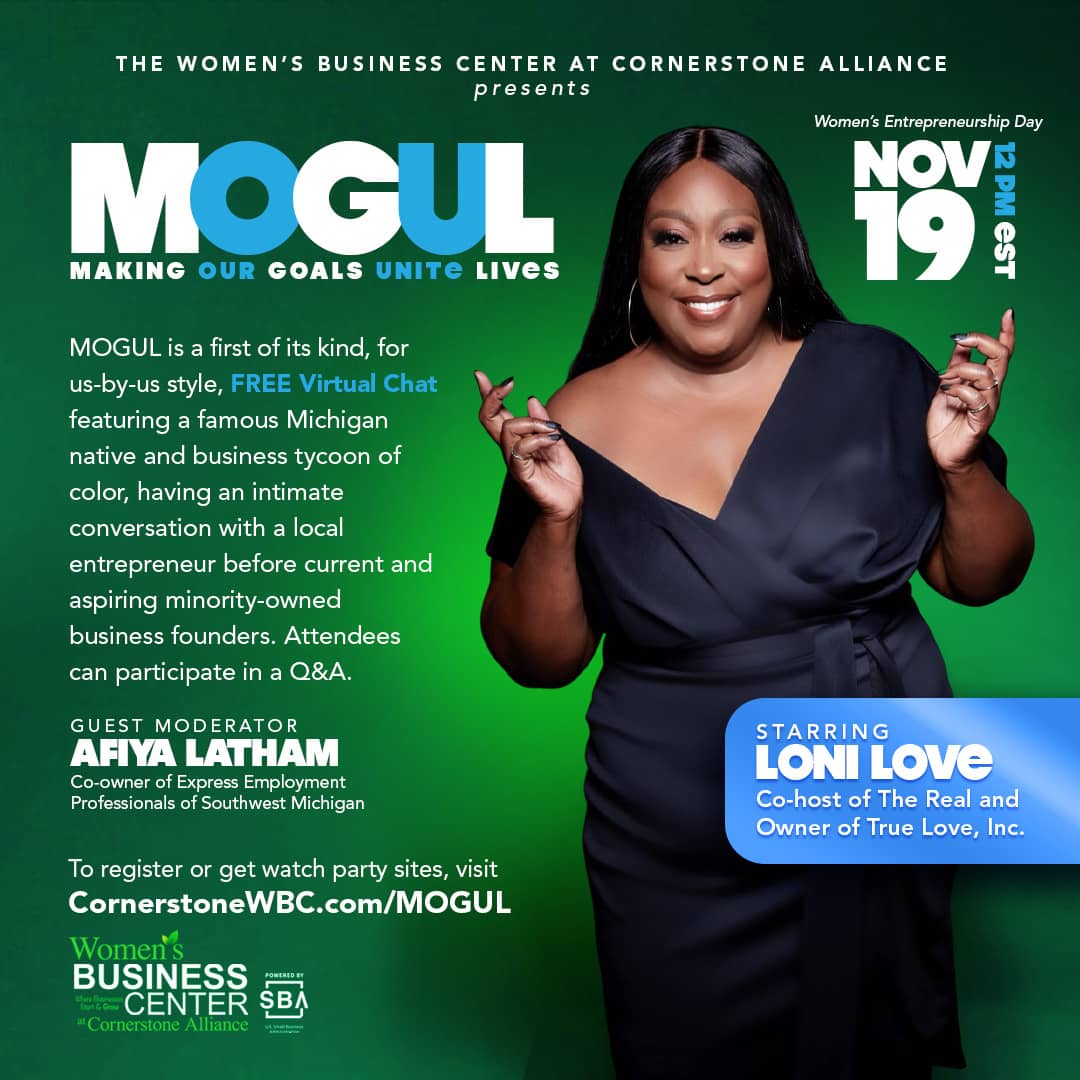 As the world celebrates Women's Entrepreneurship Day on November 19, the Women's Business Center (WBC) at Cornerstone Alliance will be presenting the inaugural MOGUL (Making Our Goals Unite Lives) event.
MOGUL is a first of its kind, for us, by us style, fireside chat featuring famous comedian and entrepreneur Loni Love. A Michigan native, Love is co-host of The Real and Owner of True Love production company. Love will reconnect with her roots through an intimate conversation with Afiya Latham, Co-owner of Express Employment Professionals of Southwest Michigan.
Oftentimes, Black, Indigenous, People of Color (BIPOC) entrepreneurs experience barriers with accessing capital and resources needed to start or sustain their businesses. COVID-19 has exacerbated those challenges, especially for women. However, when BIPOC entrepreneurs break through that glass ceiling they are unstoppable in their respective industries. Unfortunately, people in underserved communities don't always get first person accounts and the opportunity to connect with popular business tycoons who they identify with.
"As the WBC continues to help small businesses adjust to their new normal, it is important that they, especially entrepreneurs of color and women, are given hope," said Brandon Campbell, Director of the Women's Business Center. "We are excited that internationally recognized celebrity and successful business woman, Loni Love, has chosen to join us on Women's Entrepreneurship Day to share her fascinating story. Small business owners throughout Southwest Michigan will be inspired by Love's message, and encouraged to never give up on their dreams of business ownership."
Love will share how she went from being an electrical engineer in the automobile industry, to launching a successful entertainment career and owning a Hollywood production company. Attendees will learn how Love seized opportunities to help establish herself as a force in business, unite groups and impact lives, and how they can also, if they start now.
In order to provide the most access to Love's message, the WBC will be hosting watch parties throughout Southwest Michigan. Watch party locations include the Ghostlight Theatre, the Niles District Library, Lake Michigan College at the South Haven Campus, and ThinkBar Coworking Space. A lunch option will be included at the Benton Harbor and South Haven locations.
About Loni Love
Loni Love is an EMMY and NAACP Image Award-winning co-host of The Real. The Real is a one-hour nationally syndicated talk show airing daily on Fox stations and BOUNCE TV. The show is now in its seventh season and has featured a variety of high-profile guests from former First Lady Michelle Obama, Idris Elba and more.
Loni also currently co-hosts the weekend radio show Café Mocha with rapper YoYo. She has interviewed a variety of A-list guests such as Patti LaBelle, John Legend, Tyler Perry, among many others. Café Mocha is the only nationally syndicated show of its kind that was created exclusively BY and FOR women of color. The show is broadcast on over 35 stations including SiriusXM Channel 141.
Additionally, as the owner of her own production company True Love, Inc., Loni is the Executive Producer of Little Women Unfiltered: Atlanta on Lifetime. Loni is also working with Lifetime as host of the post Salt-N-Peppa movie interview with the real legendary artists. She is also excited to be the new narrator for the 13th season of Bridezillas on WETV. In addition, she served as the solo host for the 2020 Daytime Emmys Children's, Lifestyle and Animations Award Ceremony. Along with her work on television, Loni has appeared in myriad movies including Mother's Day, Paul Bart Mall Cop 2, and Soul Plane with Kevin Hart.
Loni is the subject of the documentary "Being Loni Love", which traces her life story from her early days as a latchkey daughter growing up in Detroit's Brewster- Douglas housing projects to national stand-up comedienne and successful host/actress. Author ("Love Him or Leave Him but Don't Get Stuck with the Tab" came out in 2013), stand up comedienne, theatre actor, film star, television host, roving reporter and part time aunt – Loni Love has no plans to slow down. In 2019, she became the first female host on the mainstage of the Essence Music Festival in the Superdome in New Orleans.
A philanthropist, Loni is an ambassador for When We All Vote, NAACP, LA Mission, Dress for Success, Reach Higher, LA Regional Food Bank, Project Angel Food, Girl Scouts and the UNCF to name a few. Loni is a graduate of Prairie View A&M University where she obtained her Bachelor of Science degree in Electrical Engineering and is a member of Delta Sigma Theta Sorority, Inc.
Loni's second book, "I Tried To Change So You Don't Have To: True Life Lessons" debuted in June 2020 and received a glowing review from the New York Times.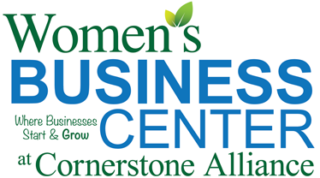 Visit CornerstoneWBC.com/MOGUL to register and learn more about in-person watch party locations.