Business of Sports Institute at UT McCombs School Founded by Gift from Accenture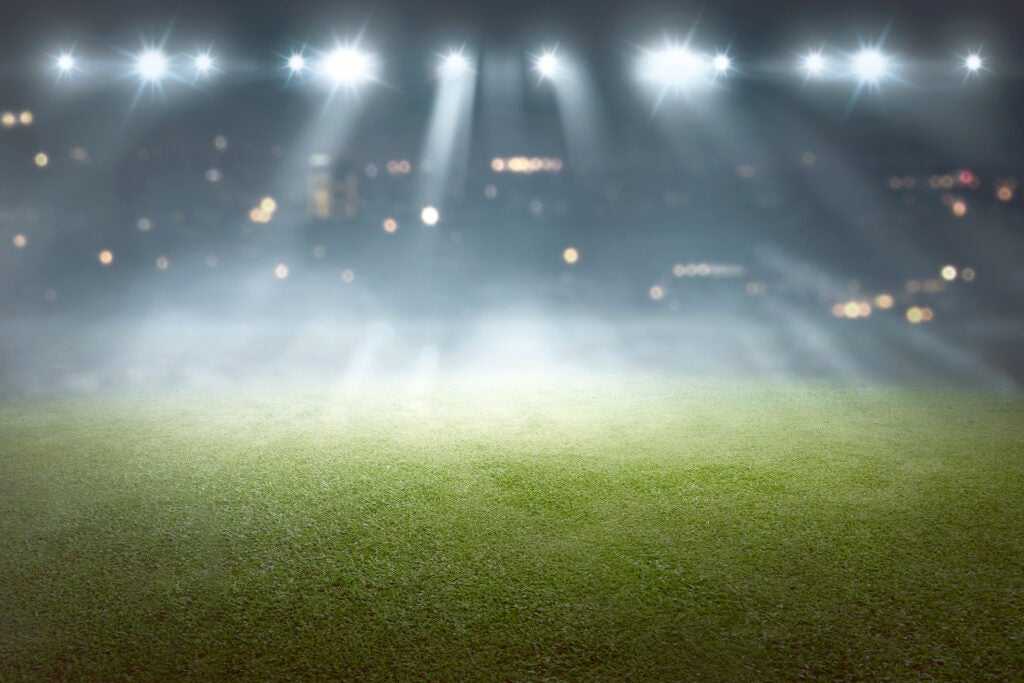 AUSTIN, Texas — A new sports education and research venture unlike any other in the United States that will meet a pressing need in the sports industry is coming to The University of Texas at Austin.
Accenture has donated the founding $1.4 million gift to establish a Business of Sports Institute in the McCombs School of Business at UT Austin. The new institute will bring together all the advantages of a top business school at a major research institution with an elite sports program and combines those with the expertise in sports business consulting and analytics that Accenture brings to this multiyear partnership.
"There is no other major business school in the country bringing on-field, on-court performance analytics into the curriculum, into the research lab, and to sports industry leaders like we are," said Ethan Burris, faculty director of the McCombs School's Center for Leadership and Ethics, in which the new institute will be housed. "Talent management, performance metrics, sports-adjacent verticals and branding — there are a ton of topic areas we are poised to tackle."
The new Business of Sports Institute will create:
Curriculum: a new undergraduate minor available in fall 2022 in the analytics and business of sports, including tracks focused on data science and analytics, entrepreneurship, and the science of high performance, with future plans in public/private financial models and sports marketing
Applied Research: the most innovative athletics academic research program in higher education, different from anything available at any other university/elite business school, partnering with UT Athletics and professional sports teams to tackle prevailing and emerging challenges in sports analytics, sports science and sports business
World-Class Events: a series of premier conferences and intimate events to bring together the best thinking at the intersection of leadership, ethics and sports, the first of which, the Texas Business of Sports Summit, is scheduled for Sept. 23-24, 2021
Research within the institute is already underway in men's and women's basketball, with plans to ramp up quickly to other sports.
"This partnership is a colossal boon to our research," Burris said. "We now have the financial resources to hire unique and specialized talent — for example, experts in biomechanics or in data visualization. And Accenture is devoting significant talent and expertise — project managers, data scientists and other engineers."
Using data analytics in new ways became a worldwide obsession after the publication in 2003 of "Moneyball," which chronicled how Oakland A's manager Billy Beane got his bottom-of-the league team to the playoffs using sabermetrics to hire undervalued but winning players on the smallest budget in the league. His success spurred a new generation of sports data analytics advances.
Jon Berger, managing director and U.S. sports analytics lead at Accenture, was a part of this revolution. When "Moneyball" came out, Berger was working as an NFL and college football analyst for Fox Sports, before moving to ESPN and CBS. Berger had identified early-on the potential for data and gaming to proactively inform sports predictions. Now, nearly 20 years post-"Moneyball" and the universal application of big data, Accenture is committed to promoting the expansion of the emerging and rapidly developing field of sports analytics.
"This partnership hinges on the power of Accenture's capabilities and proven track record of turning insights into revenue-generating businesses," Berger said. "That coupled with UT's dedication to athletic excellence and McCombs' position as a leading business program, creates an unbeatable formula for pushing the envelope in sports analytics, sports science and sports business."
Globally, the sports analytics market size is expected to reach $4.6 billion by 2025, expanding at a rate more than 30%, according to an April 2020 report in Forbes. And only a small portion of revenue-generating teams in the world have dedicated business intelligence groups, Burris said.
"Not only is this a chance for our 580 student athletes to enhance their craft through data analysis, but the minor in sports analytics will be incredibly attractive for students in a wide variety of majors, from kinesiology to communications," said Christine Plonsky, UT executive senior associate athletics director.
McCombs has become a hub for sports data analytics innovation since its hiring in 2019 of Kirk Goldsberry, the New York Times best-selling author of "Sprawlball" and a pioneer in the world of basketball analytics. Burris hired Goldsberry to develop coursework, teach sports analytics and oversee sports analytics research at McCombs. Goldsberry's groundbreaking insights have already landed him jobs as vice president of strategic research for the San Antonio Spurs, as the first-ever lead analyst for Team USA Basketball, and as a staff writer for ESPN. But his new job as executive director of the Business of Sports Institute — accompanied by UT vice president and athletics director Chris Del Conte in the role of strategic adviser — is where he says it all comes together.
"When it comes to sports, there's no university in the world where I'd rather be thinking about this," said Goldsberry. "UT is uniquely positioned with its size and passion to blossom into this hub for sports academic work. If there's such a thing as a perfect university setting for elite sports research, it's right here in Austin, Texas."
Click here for a video sound bite with Business of Sports Institute Executive Director Kirk Goldsberry.