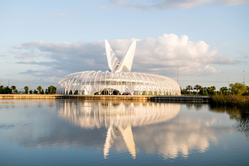 Our University is proud of our success in producing well-rounded graduates who are educated in the latest methods and ready to take on high-demand jobs in growing industries.

LAKELAND, Fla. (PRWEB)
July 30, 2021
Florida Polytechnic University's Data Science and Business Analytics Department has been named to an international list of the 10 Most Prominent Analytics Institutes 2021 by Analytics Insight Magazine.
Florida Poly was listed alongside the Massachusetts Institute of Technology (MIT), the University of Warwick in Coventry, England, and Cape Breton University in Nova Scotia, Canada.
"This is a big honor to be recognized alongside some of the best in the world," said Dr. Shahram Taj, chair of the department. "This really is due to the great collective effort of
…
Read More