Faulkner's leap into business world marks 22nd year | News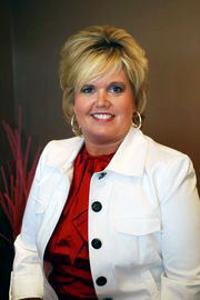 Editor's Note: October is National Women's Small Business Month and Oct. 18-22 is National Business Women's Week. The Metropolis Planet is saluting Massac County's many women in business with a closer look at four of them during the month of October. According to the website fundera.com, 40% of U.S. businesses, or 12.3 million, are women-owned, and generate $1.8 trillion a year.
Even before the time she started working and could barely see over the counter, business ownership was in Kim Faulkner's blood.
"My parents were self-employed," which led the daughter of Margaret and the late Ralph Powell to begin working at the age of 10.
Now, Faulkner is marking the 22nd year of running her own business.
She began with home jewelry parties for a couple of years while also working at City National Bank. After eight years at the bank, she decided to take the leap to pursue the jewelry business full time.
"At that time, my daughter Kirsten was 5, and as she got older, I was able to be at all of her golf outings and tournaments," Faulkner said.
She bought the building at 215 East Fifth St. and turned her home-based business into Silver Collections in 1999, at first focusing on silver jewelry and growing it to include other types of jewelry, gifts and apparel to become a boutique where she's employed several part-timers over the years. Faulkner keeps her inventory up to date by traveling to multiple markets and working with multiple vendors.
In 2016, Faulkner opened a second location in Marion, selling many of the same lines as the Metropolis location. She hired a manger and several part-time employees at the location before having the opportunity to sell it.
"I love working with the pubic," Faulkner said.
Over the years, that interaction with the public has changed, especially with COVID-19.
"Social media is 24 hours. It has been a key factor in the business," she said. "I do a lot of live videos and daily promoting the merchandise. That's key — so many people are on social media. It's such a unique tool in today's world. A lot of consumers tend to shop online. The brick-and-mortar stores are still here and to promote that, you've got to stay after it. You can't get dormant with it."
Flexibility is also a key.
"COVID has been a huge challenge," Faulkner said. "For a while I had to close, then I could do curbside, then we were able to open inside. It's been so challenging. I had to learn new ways to sell the merchandise. The website has been a key factor, but social media has helped more than anything."
A native of Metropolis, Faulkner is a graduate of Massac County High School and also completed classes at Shawnee Community College. She lives in Metropolis with her husband of 30 years, Todd Faulkner. Their daughter Kirsten recently married Thomas Simpson and lives in Oxford, Mississippi.
When she's not busy working, Faulkner enjoys spending time with her family and friends and boating.