5,000-square-foot Palestrina Event Center opens in Liberty Business Park | Business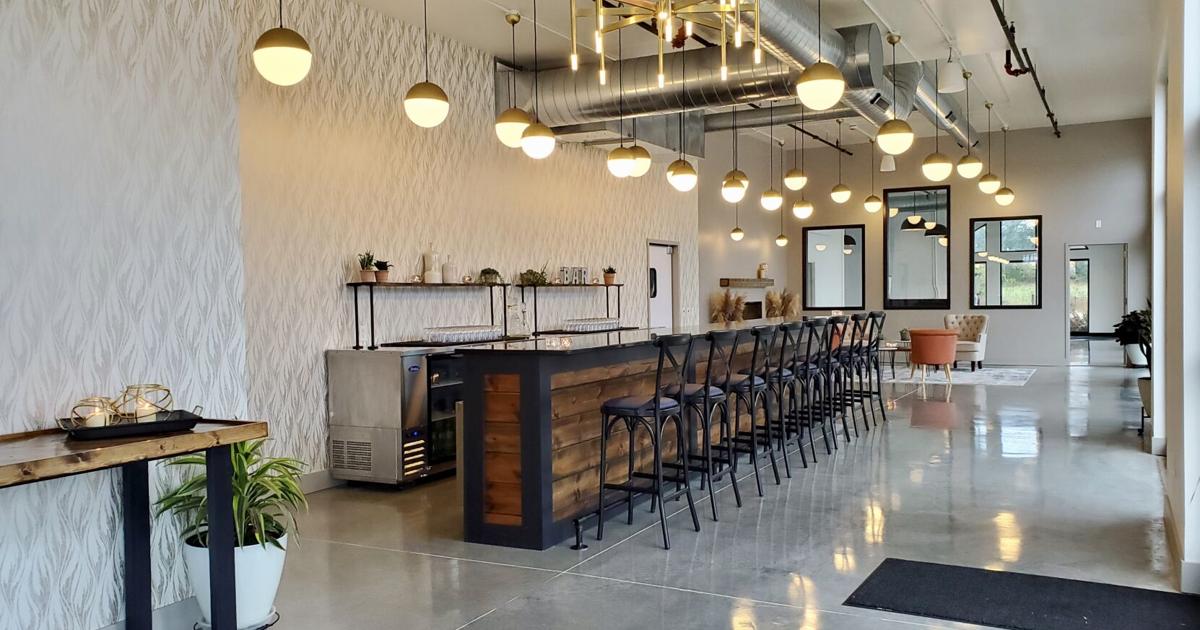 While planning large gatherings such as weddings or work parties continues to face challenges from the ongoing COVID-19 pandemic, there's at least one less thing for Verona area revelers to have to think about – a location for their next event.
Palestrina Event Center opened in Liberty Business Park in October, in the space formerly occupied by Fisher King Winery.
The center is named after an Italian city that's home to a temple honoring a Roman goddess of fate and luck. The intention is that the Palestrina Event Center will provide luck and success to events such as weddings, holidays, corporate gatherings or retirement parties.
There had always been an intention to open some kind of event venue in the five-year-old Liberty Business Park, to complement its 136-room Hyatt hotel, Palestrina's general manager Stephanie Walczak told the Press.
The 253-acre commercial and retail park is a project by landowner and developer David Reinke located on the southeast side of the city.
When Fisher King Winery went out of business in October 2020 citing flagging sales from the COVID-19 pandemic, Reinke – who owns the Hyatt – saw an opportunity to realize the event center without having to construct a new building for it.
The 5,000-square-foot space features reception and dining spaces, a custom bar, a fireplace lounge, a fenced patio, indoor/outdoor ceremony options and surround-sound speakers.
The dining area can comfortably seat 175 guests with a total facility capacity of 220 guests, Walczak said.
The venue is climate-controlled, Americans for Disabilities Act compliant and provides chairs, tables, lounge furniture and some audio-visual equipment. An overhead bay door is available for deliveries.
While Palestrina does not provide food, alcohol or bar services, a catering kitchen is available for vendors to store and reheat food and comes with a large ice maker, prepping tables and bussing carts, Walczak said. Plus there's Sugar River Pizza Company, El Charro Mexican Grill and North and South Seafood & Smokehouse all located nearby in Liberty Business Park, with Wisconsin Brewing Company across the street, she said.
Though she admits there have not been many events held yet in the first three months since Palestrina opened, there has been a luncheon for the Verona Area Chamber of Commerce, a Thanksgiving dinner, a holiday party for a Madison company and Walczak's own wedding.
"I think some people are a little hesitant," she said of large gatherings. "But we decided this is a good idea so let's go for it. Verona doesn't have a venue like this and the city was on board. It wasn't just about opening a venue and making money from it, it's a good addition to the park."
Walczak said she's had a lot of interest just renting the front area of the center for smaller gatherings over drinks. That area can fit around 40 people if seated or 75-80 if standing. Palestrina's custom bar provides seating and mingling space, ice bins, hand sinks and select bar tools.
The intention was to offer a flexible event space that could cater to different sized groups, allowing people to rent just the smaller front area of the space for a lower price point.
"When we've had people tour, they've been excited about how flexible and neutral the space is," Walczak said.
The neutrality being how the space is decorated. With an industrial modern look, tall ceilings, black windows and white walls – it emulates a downtown, metro feel, she said.
"We don't want people to think it's only for weddings," she said. "I see it as being a multi-function space – not just a wedding space. It's a very multifunctional space and an advantage for the community – it adds to the city as a destination spot. It's very turnkey and comfortable, with tables, chairs and lounge furniture, plenty of parking and right across from the hotel where people can stay the night without having to rent transportation. The layout and proximity are a high point."
And since the Hyatt hotel and Palestrina Event Center have the same owner, people will get discounts for renting at both places, she said.
Pricing options for Palestrina vary depending on the season, days of the week and time of day, she said.
After a year of busy work fixing-up the space cosmetically with paint and trim, refinishing the floor, installing new audio and HVAC systems, they're now just ready and waiting to host gatherings and parties.
"Our team put a lot of heart and hard work into this new business and we hope that the community is as proud of it as we are," Walczak said.