Chapel Hill's old-school business center keeps up with changing times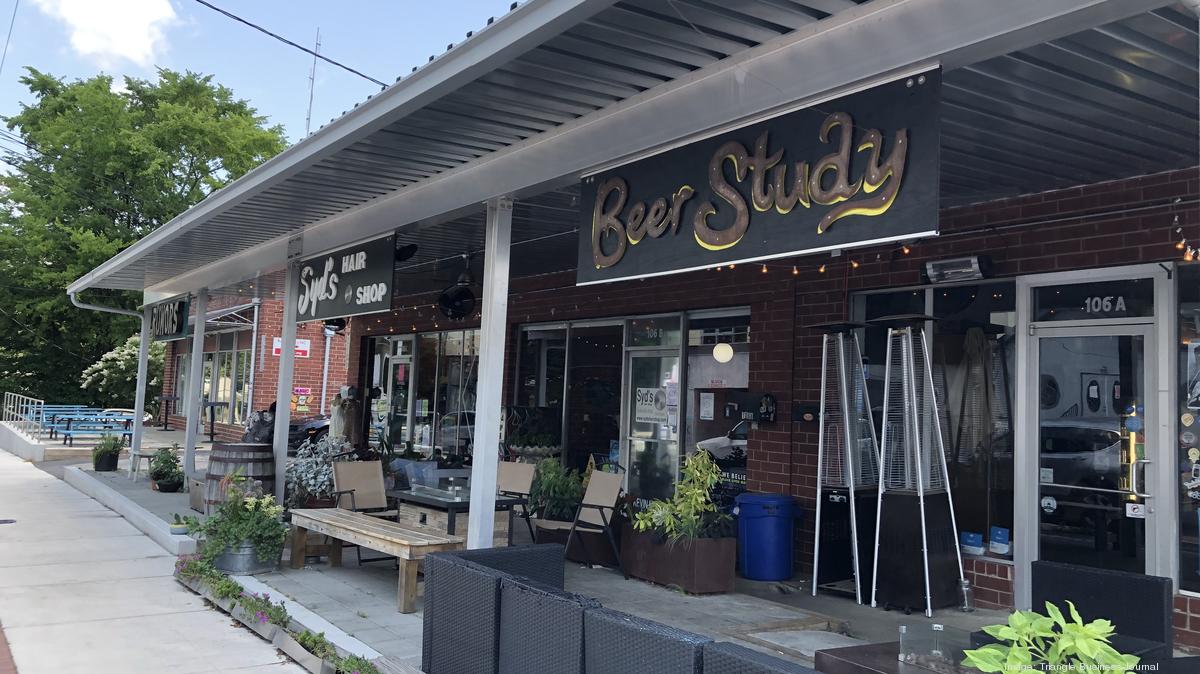 A block straddling the Chapel Hill-Carrboro border has developed a distinct old-school presence from the rest of downtown. It's increasingly becoming a destination for food, socializing, music, art and games.
The area is called Midway.
"It's such a hub for people because it's not really Chapel Hill and it's not really Carrboro," said Sammy Martin, who along with a group of partners in 2008 bought the block bounded by N. Graham St. and Franklin St. that starts at The Baxter and wraps around the corner to Mint Indian Cuisine.
Martin said that when he bought the property with his wife, Wendy Mann, many of the businesses were not drawing traffic to the area. However, over the last decade, Martin and Mann have sought to add vibrancy to Midway by bringing in an eclectic array of businesses they say form one cohesive unit. 
Mann said the vision for Midway began with her desire to have a great hamburger joint that wasn't Wendy's. And they found one: Al's Burger Shack, now a Chapel Hill staple.
From there, Martin and Mann found the other tenants somewhat serendipitously. Midway consists entirely of independently owned and operated businesses such as Beer Study, Syd's Hair Shop and Rumors. 
"We all had very like-minded visions to keep this an old-school village – but modern – and to keep it really community-based and as ethnic and diverse as possible," Mann said. 
Mann said she was invested in creating Midway's vintage environment after returning to her hometown and finding it drastically changed from development and commercialization. Rooted in nostalgia, Mann is pleased Midway feels and looks like Chapel Hill used to when she was growing up. 
Positioned relatively farther away from UNC-Chapel Hill's campus, Midway businesses are not as affected by the seasonal flow of students. Instead, businesses rely primarily on support from locals.
This dynamic helped all of Midway's businesses survive the pandemic – a remarkable feat given the loss of over 30 businesses in downtown Chapel Hill. Additionally, Mann and Martin said they are hands-on landlords invested in the success of the businesses and were flexible with rent while businesses were shut down.
"I think the profile of this place has risen because it never died last year," Martin said.
The recent addition of Brandwein's Bagels is also bringing more foot traffic to Midway and new businesses like Franklin Motors Beer Garden and Big Belly Que will be opening soon, offering even more for people to visit. 
Mann said there is something for everyone in Midway and there's enough to keep a person busy the whole day – from getting a haircut to thrifting to eating and drinking. 
Martin said all his tenants have been in business for five years. With little to no turnover, Martin and Mann expect the business mix in Midway to remain the same for a while. Their plans for Midway are now shifting to enhancing the music and art scene. 
Mann has launched Midway Market, which occurs on the first and third Saturday every month, where vendors sell art, handmade jewelry, clothes and more. Plans are also being made for more live music events and festivals.
But before Mann and Martin's work began, Midway was home to thriving Black-owned businesses who referred to the area as Midway. 
Chapel Hill native Delores Bailey, whose family moved to Graham St. in the 1970s, said N. Graham Street was the hub of Black businesses. At the time, she said, the area was the Black side of town and was not mixed with white businesses. 
"The African American footprint was a part of Midway, before Midway became popular to everybody else," Bailey said.
In the 1990s, Bailey said the Black business hub started to fall into disrepair driven by lack of resources, higher rents and the aging of owners. Bailey said construction of Greenbridge, a condominium complex at 601 W. Rosemary St., was one of the final changes that decimated Black businesses. 
To combat the collapse of the Black business community, EmPOWERment, Inc.'s Midway Business Center seeks to help minority entrepreneurs be successful by offering affordable rent spaces. Bailey said five to six minority-owned and women-owned businesses are operating from the Midway Business Center
Bailey's hope is that the Midway Business Center can help retain and bring back some of the Black business footprint to Midway.
"We definitely want to make this more of a destination, but it's that Catch 22 of it's our little love community that we want more people to experience, but we don't want it to get out of hand as our little gem," Mann said.
List of Midway Businesses:
Al's Burger Shack

Attic 506

Baxter Arcade

Beer Study

Big Belly Que (coming soon)

Brandwein's Bagels

Franklin Motors Beer Garden (coming soon)

Italian Pizzeria III

Knott's Funeral Home

Little Burma

Local 506

Midway Business Center (houses 5-6 businesses inside)

Peel Gallery

ReCYCLErey

Roquette at Franklin Motors (coming soon)

Rumors Thrift Store

Syd's Hair Shop

Tar Heel Taxi

Tin Cup Joe

World Headquarters Cigars